Madrigal Dinner Awakens Tradition
Madrigal Dinner Awakens Tradition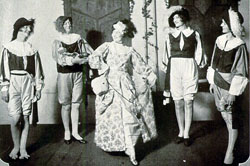 VALDOSTA -- The Valdosta State University Department of Music invites noble lords and ladies to the 2010 Feast of Carols -- a festive madrigal dinner -- at 6 p.m. on Tuesday, Nov. 30, in the University Center Magnolia Room.


The VSU Choir will process through the crowd in medieval splendor as they perform mixed choral music, such as "God Rest Ye Merry Gentlemen," and serve up wassail and wild boar. Royal attendants, court entertainers and wandering minstrels will announce each course with traditional English carols and explanations as to the historical significance of symbolic objects and gestures. The program infuses familiar tunes, such as "Jingle Bells" and "Silent Night" with traditional madrigal compositions -- from the "Flaming Pudding Carol" and "Gloria ad Modum Tubae" and "Dedziet skalu."

An excerpt from the program reads: "A legend well over five hundred years old tells us that a student at Oxford University was taking a lonely walk on Christmas morning on the hill near Oxford Town when he was charged by a wild boar. Otherwise weaponless, the student thrust his copy of a book by Aristotle down the boar's throat, choking him to death. That night the Dons and students at the university dined on the boar. Every Christmas since that time a boar's head is carried into the hall on a platter accompanied by the now famous tune the 'Boar's Head Carol.'"

The Old English Christmas Festival is a Georgia State Woman's College tradition that dates back to the first year of the school in 1913 and continued into the 1950s. The elaborate production of costume, light, food and music recreated medieval Christmas traditions, drawn mainly from England. The VSU Archives Image Collection has a series of costume drawings as well as photographs of past festivals held between 1924 and 1941 at http://www.valdosta.edu/library/find/arch/imagecoll/index.shtml .

"A Lord of Misrule presided over the festivities, accompanied by a fool. Pages or Heralds announced the entrance of the Lord of Misrule. The Yule Log was also brought in with a procession and a song 'Ye Yule Song.' The tables were usually decorated with brown paper and greenery," the VSU Archives Image Collection states. "After the dinner and entertainment, the last part of the ceremony was always dimming the lights, lighting candles, and singing 'Silent Night.'"

Those interested in attending the authentic recreation of renaissance traditions may call Event Services as 229-333-5998 or sign up online at http://www.valdostastate.org/madrigal to purchase the $50 tickets, which will be sold until Nov. 22. Tickets will not be sold at the door. Proceeds from the event will fund The VSU Chamber Singers' spring performance tour to sing Faure Requiem at New York's Lincoln Center for the Performing Arts. VSU's primary touring ensemble travels to perform throughout Georgia and internationally every three years. The Chamber Singers will embark on an international tour to South America in the Spring of 2013.
Newsroom
Office of Communications Powell Hall West, Suite 1120
Mailing Address
1500 N. Patterson St.
Valdosta, GA 31698
General VSU Information
Office of Communications