International Honor Society Inducts 35 Education Students
International Honor Society Inducts 35 Education Students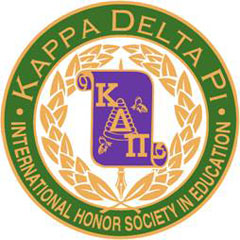 VALDOSTA -- Global Educational Honor Society Kappa Delta Pi inducted 35 students into the Alpha Beta Kappa chapter at Valdosta State University. These students join the more than 1.2 million educators -- including Albert Einstein, George Washington Carver, Eleanor Roosevelt -- dedicated to fostering professional growth, fellowship and teaching practices through the organization, founded in 1911.

The undergraduate inductees listed below have completed a minimum of 60 semester hours and hold a cumulative GPA of 3.5 or higher, while the graduate inductees have at least 12 semester hours under their belts with a GPA of at least a 3.8.

Graduate students:

Tatiana Galueva, Mallorie Debra Law, Alison Marie Rowell, Christine Marie Hahn, Susanna J. Lawson, Michelle Pitman Skerratt, Jodi A. Harrison, Philip A. Lyons, III, Sherie Lee Vu, April Vista Jones, Adeline Iantha McArthur, Kelly Ann Wanner, Charmaine Helen Landrum, Lisa Anne Melton, Maya C. Washington

Undergraduate students:

Caitlin R. Bailey, Sadie Kristin Hatcher, Krysten Mangham, Stephanie Diane Boulware, Ivy L. Inman, Kellie McGill, Amy Lee Bradshaw, Lavey Keller, Casey Hannah Ponder, Melana Jo Chaney, Emily Ruth Langston, Phillip Sykes, Amanda Coggins, Wennie M. Lawson Kimberly Diane Wright, Kristi L. Davenport, Kayla M. Lear, Lakeisha S. Wyche, Annamarie Decker, Hannah Beth Lloyd

Kappa Delta Pi is the largest honor society in education, representing 582 undergraduate and professional chapters with more than 45,000 active members. Developed from the Greek words to represent knowledge, duty, and power, the society inducts those who exhibit ideals of scholarship, integrity of service, and commitment to excellence in teaching and applied professions. Membership selections are made based on academic achievement, a commitment to education as a career and professional attitude.
Newsroom
Office of Communications Powell Hall West, Suite 1120
Mailing Address
1500 N. Patterson St.
Valdosta, GA 31698
General VSU Information
Office of Communications