Holiday Helper Tree Grants Wishes of Area Youth
Holiday Helper Tree Grants Wishes of Area Youth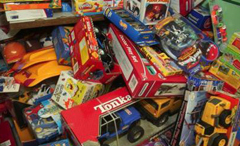 VALDOSTA -- A "Holiday Helper Tree" adorned with 135 ornaments -- each identifying the needs of an area child -- is located on the third floor of the Student Union in the Student Affairs Office. Come pick an ornament off the tree and fulfill the holiday wishes of those less fortunate.

The Office of Volunteer Services and Counseling Center partnered with Lowndes County Child Advocacy Center, Behavioral Health Services, Northpoint Group Home, and Project Light to identify disadvantaged children in the region. Each ornament lists a child's age (from infant to 17 years), size and wish list -- such as books, racecars, shoes and dolls.

Those interested in plucking an ornament off of the tree should return unwrapped gifts to the Student Affairs Office by Tuesday, Nov. 30. The Holiday Helper Project will also accept donations of wrapping paper as well as generic gifts, which volunteers will give to The Haven shelter and Methodist Home for Children.

For questions about this outreach program, call Ann Lacey, director of the Office of Volunteer Services, at 229-333-5941 or e-mail her at aelacey@valdosta.edu. Counselor Leah McMillan may also be reached via e-mail at lcmcmill@valdosta.edu or phone at 229-333-5940.
Newsroom
Office of Communications Powell Hall West, Suite 1120
Mailing Address
1500 N. Patterson St.
Valdosta, GA 31698
General VSU Information
Office of Communications