University Honors Distinguished Alumna
University Honors Distinguished Alumna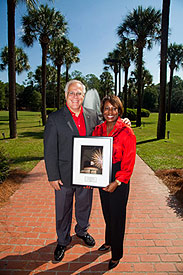 VALDOSTA -- The Valdosta State University Alumni Association named Felicia Norwood the 2010 Distinguished Alumna of the Year for her momentous professional accomplishments, community service and continued dedication to the university.

The president of Mid-America Region for Aetna, Inc., rode in the association's float during the VSU Homecoming Parade Friday, Oct. 1; VSU students, alumni and friends honored the 1981 graduate during halftime of the 3 p.m. football game against Ouachita Baptist on Saturday, Oct. 2.

A Recognized Leader

Norwood oversees the medical economics and network management of a 17-state region for the nation's largest health insurer. Prior to her current role at Aetna, the Yale Law School graduate served as the senior policy advisor of Health and Human Services for former Illinois Governor Jim Edgar. An expert in policy and management expertise, she also worked as the president and chief operating officer of ActiveHealth Management, Inc. -- an information-driven care management company, which Aetna acquired in 2005.

"Aetna has been around for more than 156 years and our cause and mission -- to make quality healthcare more affordable and more accessible -- is something in which I strongly believe; and it is important that I find passion in my work, since I spend a tremendous amount of long hours doing it," said the Delta Sigma Theta Sorority member, whom Black Enterprise magazine featured as one of the 2009 "75 Most Powerful Women in Business."

Norwood has received numerous awards for her 20 years of policy and management expertise in both private and public health care sectors. In 2009, Black Enterprise listed Norwood as one of the magazine's "75 Most Powerful Women" in Business and then in 2010 to the "100 Most Powerful Executives in Corporate America." She appeared in Crain's Chicago Business listing as one of Chicago's "40 Under 40" most influential business leaders.

Inspiring the Nation's Youth

Demanding professional responsibilities have not kept the political science major from participating in a variety of mentoring programs and other philanthropies. She is a major supporter of the local Boys and Girls Club in her hometown of Camilla, Ga. and is a member of the organization's Jeremiah Milbank Society and The Executive Leadership Council.

"I've been very blessed; and when you've been able to achieve what I have and do what I've done, it is important to never forget the road you've travelled, the sacrifices that others made, and the importance of trying to pave a smoother path for those who follow," said Norwood, who also serves on the Vestry of the Church of the Transfiguration in New York. "There's so much need out there, and while you can't support every worthwhile cause, everyone can do something to make a positive difference."

Kerry Morris, director of Corporate and Foundation Relations at VSU, was among the alumni and friends who nominated Norwood for the Distinguished Alumnus Award. Along with her extensive list of professional accomplishments, Morris noted Norwood's faithful service to others and strong ethical focus.

"Felicia is a staunch advocate for disadvantaged minority youth and would like to establish a foundation focused on preparing students for college. Her favorite quote -- 'to whom much is given, much will be required; and from the one to whom much has been entrusted, even more will be demanded' -- demonstrates that leadership has more to do with service than self interest," Morris wrote in his nomination letter. "Her achievements are proof that with hard work, strong ethics and determination, everyone can achieve success regardless of race, gender or economic background.

Her Guiding Light

When faced with difficult decisions -- both professional and personal -- Norwood said she relies on the strong moral compass built during her faithful upbringing at Beulah Baptist in Camilla, Ga. Her rich background in the theoretical study of law and practical applications of political science has served as an equally powerful force in her daily interactions. The thoughtful executive, who longed to be a lawyer as a child, said there is no substitute for a life centered in faith and nourished by education.

"Through all of my life, my faith and family have kept me grounded," said Norwood, who for the past 16 years has taken an "all girls" trip with her sisters. "My husband, Garry, sisters, mom and aunts 'keep it real' while being extremely supportive. I also have a small group of very close friends, who are a great source of support, encouragement, laughter and inspiration."

Norwood lives in Chicago with her husband, Garry Karch, who owns his own investment banking and corporate consulting firm. When the two aren't enjoying the Beef Tenderloin au Poivre from Kiki's Bistro, they are reading or planning their next vacation.

"Italy is my favorite place to travel, and maybe that's why I love pistachio gelato," said Norwood, who unwinds plugged into Mary J. Blige or Alicia Keys on her iPod. "Garry and I just returned from Paris/Nice/Monte Carlo and Cannes, which was fantastic. Our next vacation will be to the Grand Cayman during the Christmas holidays. Gary is an avid scuba diver."

Look for more about Norwood's professional drive to provide quality health care and personal mission to create opportunities for disadvantaged youth in the fall issue of the VSU Alumni Voice.
Newsroom
Office of Communications Powell Hall West, Suite 1120
Mailing Address
1500 N. Patterson St.
Valdosta, GA 31698
General VSU Information
Office of Communications