Alumnus Author Reveals Civil War Strategy
September 14, 2010
10-149
Sara Lynn McCall
Alumnus Author Reveals Civil War Strategy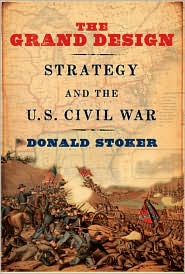 VALDOSTA -- Author Dr. Donald Stoker will speak about his latest book, "The Grand Design: Strategy and the U.S. Civil War," at 7 p.m. on Tuesday, Sept. 21, in the Student Union Multipurpose Room.

In the pages of his sixth book, the professor of strategy and policy at the U.S. Naval War College, demonstrates how strategy largely determined the war's outcome. Although thousands of works address the War Between the States, "The Grand Design" is one of the first books to delve into how both sides transformed political ideals into military action. Published by Oxford University Press, the book been chosen as a "Main Selection" of the History Book Club and as an "Alternate Selection" of the Book of the Month Club and the Military History Book Club.

VSU History Professor John Dunn said Stoker, who earned two degrees at Valdosta State, has made a "major breakthrough" in both military and American history with his latest publication. Critics agree Stoker has artfully demonstrated, with the use of maps and primary documents, why strategy mattered in the Civil War.

"I honestly believe that Donald Stoker is now a 'name' in Civil War history," Dunn said. "'The Grand Design' is a fundamental effort, and one which future historians of the war will have to know if their own work seeks to meet the high standards of quality."

At 5 p.m. on Monday, Sept. 20, Stoker will appear as a guest on "More ... from Valdosta State University" -- a live radio program aired on Valdosta's TALK 92.1 FM that features VSU President Patrick J. Schloss and John Crawford, vice president for Advancement, as they discuss university and community happenings with special guests. Listeners are invited to call 229-259-9210 or e-mail more@valdosta.edu to be part of the discussion.

For more information about Stoker's campus visit, call Dr. John Dunn at 229-333-5947 or e-mail him at jdunn@valdosta.edu.

Newsroom
Office of Communications Powell Hall West, Suite 1120
Mailing Address
1500 N. Patterson St.
Valdosta, GA 31698
General VSU Information
Office of Communications