Small Business Expert Appointed Director
Small Business Expert Appointed Director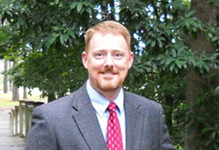 VALDOSTA -- Scott Manley -- formerly assistant director of the Valdosta State University Small Business Development Center -- was appointed Director of the Center for Business and Economic Research (CBER). The distinguished business consultant also joined the Harley Langdale Jr. College of Business Administration as a lecturer of management.

Manley has served Valdosta State interests and area small business entities since 1998. The former small business owner said he is eager to continue to further economic and industry support services in his new role. It is critical, he said, that the center persists to bridge the gap between business theory and real-world practice.

"Hopefully, in the past twelve years at the SBDC, I have helped to bring greater attention to Langdale College and to VSU as a whole," said Manley, who earned both a Bachelor of Business Administration with emphasis in Management and a Master of Business Administration from Valdosta State University. "My sincere desire is to assist Langdale College to be the preferred provider, and I am confident that with the faculty and the administrative support we have, this will happen."

The center has several big projects underway, including the quarterly cost of living index and the South Georgia Business Outlook, an online publication that tracks economic data and trends for 32 of the university's 41-county service region. Manley said he hopes to increase regional awareness of these and other business support projects. The QuickBooks® expert is in the process of building a database of regional media contacts to promote the center's outreach to various businesses, industries and economic development endeavors. He also aims to improve faculty engagement and more actively seek projects that closely align with the LCOBA's mission.

"Primarily, my responsibility is to actively seek out projects that fit the capabilities of our Langdale College faculty, and then to coordinate the satisfactory completion and delivery of those projects," said Manley, who serves on the Business Advisory Board of Valdosta State University's Chapter of Students in Free Enterprise (SIFE). "It will also be incredibly important to let the business community know our capabilities and build awareness and credibility for the center. We must further ensure that CBER is the first place that our constituents turn when they have need for business, industry, or economic development support services."

In 2009, Manley was recognized as the Association of Small Business Development Centers' "State Star" for his strong commitment to serving entrepreneurs throughout the state. The year before, the Georgia SBDC Network named him Consultant of the Year. In 2006, Manley was awarded the ASBDC Distinguished Service Award by the Association of Small Business Development Centers.
Newsroom
Office of Communications Powell Hall West, Suite 1120
Mailing Address
1500 N. Patterson St.
Valdosta, GA 31698
General VSU Information
Office of Communications