Students at Okefenokee Technical College Gain Access to VSU
Students at Okefenokee Technical College Gain Access to VSU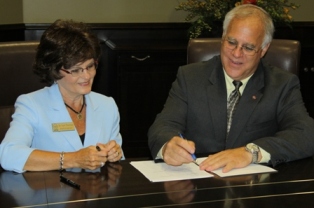 VALDOSTA -- Valdosta State University and Okefenokee Technical College (OTC) have joined forces to facilitate the transferring of credits between the two institutions. The agreement identifies 13 Technical College System of Georgia courses offered at OTC that are now eligible for transfer (pending a grade of C or higher) to VSU.

"It is our pleasure to be associated with Okefenokee Technical College and regard it as an outstanding postsecondary institution," said VSU President Patrick J. Schloss. "We look forward strengthening an already outstanding relationship with the professional staff and faculty of the College. The recently signed agreement will provide a seamless transition for students beginning their college careers in Waycross and completing in Valdosta."

According to Interim Provost and Vice President for Academic Affairs Dr. Phil Gunter, this agreement supports and enhances a student's opportunity to earn a four-year college degree. Gunter collaborated with OTC Vice President for Academic Affairs Dr. Steve Pearce, to develop an agreement that provides a seamless transfer of courses that are judged to be equivalent in content and quality.

"We are excited about this new opportunity with Valdosta State," said OTC President Gail Thaxton. "The agreement will be extremely beneficial to our students; giving them more options as they prepare for a career, at some point, seek to advance their career. We look forward to a long and productive partnership with VSU."

As a regional university, Valdosta State has a similar agreement with Wiregrass Technical College.
For more information, visit the OTC website at www.okefenokeetech.edu/ (Admissions/Equivalency Agreements).

Newsroom
Office of Communications Powell Hall West, Suite 1120
Mailing Address
1500 N. Patterson St.
Valdosta, GA 31698
General VSU Information
Office of Communications