Student Move-in Days: Aug 11-13
Student Move-in Days: Aug 11-13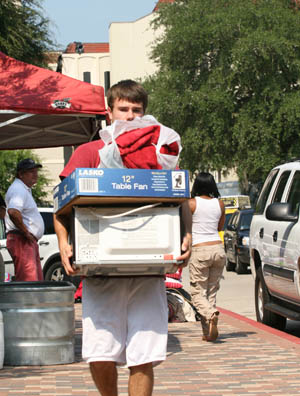 VALDOSTA -- From Wednesday-Friday, Aug. 11-13, almost 3,000 students will settle into residence halls for the new academic year. Valdosta State University's Office of Housing and Residence Life has planned the annual event so that it flows smoothly and so that student needs are met quickly and effectively.

More than 300 volunteers are already registered to assist new students and more are anticipated. Each volunteer -- even those participating as part of a campus group or organization -- must registered individually to receive a free t-shirt and "snack pack." All student volunteers will have an opportunity to move on campus early. Sign up to help at http://services.valdosta.edu/housing/signup.aspx .

For the safety and well being of families on campus, only registered volunteers will be allowed to assist with move-in day. Off campus vendors should register to participate in The Happening or reserve space in the Student Union by calling Robin Vickery, 229-333-5674.

Students who are registered to volunteer, athletes and several other groups will move in on Aug. 8. Freshmen assigned to Patterson, Reade, Converse and Georgia Halls will move in between 8 a.m. and 3 p.m. Wednesday, Aug. 11, and those assigned to Lowndes, Hopper, Brown and Langdale will move in from 8 a.m. until 3 p.m. Thursday, Aug. 12. Upperclassmen assigned to Centennial, Georgia and Hopper will settle in from 8:30 a.m. until 1 p.m. Friday, Aug. 13. 

Families should plan to unload items quickly in the appropriate unloading zone then park cars to allow room for other families. To view a map of campus entrances and move-in times, go to: http://services.valdosta.edu/housing/docs/MoveInChartsMapFall10.pdf .

VSU community members are encouraged to be considerate as the new students arrive by assisting with directions and questions as needed as well as avoiding parking lots on main campus and the surrounding lots on Georgia. Faculty and staff members will be able to park near the Office of Admissions, the University Center, the Alumni House and the Oak Street Deck and surface lot. Other parking updates and changes, as well as a campus parking map, can be viewed on the Parking and Transportation website. 
Newsroom
Office of Communications Powell Hall West, Suite 1120
Mailing Address
1500 N. Patterson St.
Valdosta, GA 31698
General VSU Information
Office of Communications