Bishop Inspires Digital Creativity
July 18, 2010
10-120
La-Keasha Brown
Bishop Inspires Digital Creativity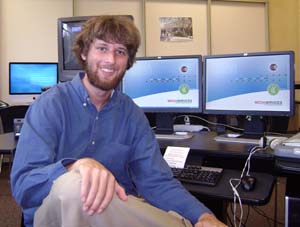 Philip Bishop is a creative muse. The media utilization specialist collaborates with faculty, staff and students on a range of projects -- all the while, urging them to explore the visionary within.

"I believe that creativity should shine through all that people do. Our motto here at the media center is 'Media Services: Where Creativity meets Technology,'" said Bishop, who has worked at VSU since 2006. "Education is getting more technology based, and I feel we help students close the gap between what they don't know and what they could know."

Rex DeVane, media services director, said Bishop is a "kind-hearted individual" with a strong work ethic who goes out of his way each day to assist students with class projects. Bishop said he enjoys investing time in the endeavors of faculty, staff and students because their projects inspire classmates, educate colleagues and inform the public.

Bishop's most memorable project was for University Attorney Laverne Gaskins, who gave a presentation about her trip to Hungary. A travel enthusiast, Bishop said he enjoyed the process of condensing three hours of video into an engaging 10-minute presentation about the country and her experiences.

The Lighter Side
Bishop takes on each project with a smile and a few jokes. He attributes his notorious sense of humor and quick wit to time spent on the Berry College forensic team, which won the Annual Novice National Forensics Tournament. The outdoor enthusiast, who regularly canoes the Suwannee River, transferred from VSU to Berry, in Rome, Ga., his freshman year to fulfill a forensic scholarship; but he couldn't stay away from the Azalea City long. Bishop returned to Valdosta to complete a Bachelor of Fine Arts in Mass Media with a video emphasis in 2008.

"I like working at a university setting, and there's just something about Valdosta," said Bishop, who entered forensics after winning an American Legion Oratorical Contest in high school. "Academic projects are top priority, and depending on the major we cater to you. Whether it's early childhood, biology or physical education, everyone can use our services for a project."

Bishop Unplugged
When he is not working his usual 10 a.m. - 7 p.m. shift in the Media Center or at a workstation helping a student meet a project deadline, Bishop is likely canoeing the Suwannee River with his family or bumping shoulders with fellow concert-goers.

"Once, I left a family Thanksgiving celebration to go see a band that I saw earlier that month. My family was mad, but at least I stayed for dinner," Bishop said, laughing. "I love music and listen to a variety of music from Widespread Panic to bluegrass music."

Working in the library, it comes as no surprise that Bishop is an avid reader. He is currently flipping through the pages of a book about the founding of paleontology in the 1800s. Bishop jokingly admits he may be the only person interested in the book, but he finds their story fascinating, nonetheless. If he weren't a media specialist, Bishop said he would want to be a paleontologist or journalist.

Working on a project that involves media?

Call Odum Library's Media Services at 229-333-5863 or go to the website at http://www.valdosta.edu/library/media/ .
Newsroom
Office of Communications Powell Hall West, Suite 1120
Mailing Address
1500 N. Patterson St.
Valdosta, GA 31698
General VSU Information
Office of Communications