List of Intramural Sports
Intramural sports are designed to provide an opportunity for all students, faculty, and staff to participate in organized recreational activities. Structured leagues and tournaments are offered in a diverse array of sporting activities. 
---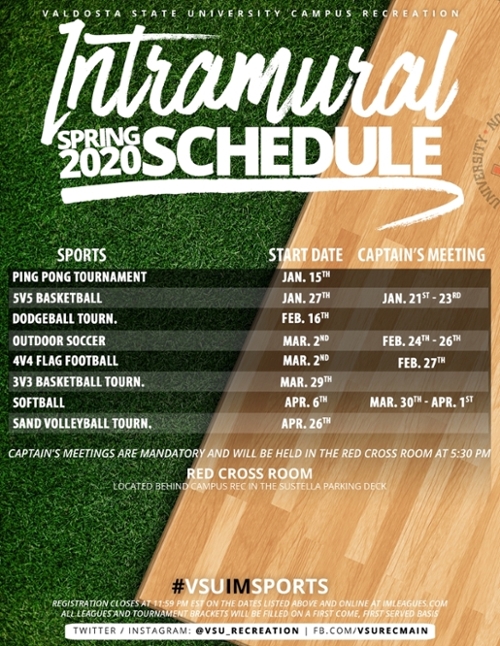 ---
List of Intramural Sports
Ping Pong Tournament: Starts January 15th.
5v5 Basketball: Starts January 27th.  Captain's Meetings are January 21st-January 23rd.
Dodgeball Tournament: Starts February 16th.
Outdoor Soccer: Starts March 2nd.  Captain's Meetings are February 24th-February 26th.
4v4 Flag Football: Starts March 2nd.  Captain's Meeting will be on February 27th.
3v3 Basketball Tournament: Starts March 29th.
Softball: Starts April 6th.  Captain's Meetings are March 30th-April 1st.
Sand Volleyball Tournament: Starts April 26th.
REGISTRATION DEADLINES COMING SOON
*Captain's meetings are mandatory and will be held in the red cross training room at 5:30 PM
Registration begins at 8 am and closes at 11:59 pm on the dates listed above and online at IMleagues.com. 
All leagues and tournament brackets will be filled on a first come, first serve basis. 
Check out
IMLeagues
for more information and sign your team up today!
Front Office
229.259.5088
After Hours
CORE Outdoors
IM and Club Sports
Aquatics
Fitness
Campus Address
1300 Sustella Ave.
Valdosta, GA 31698
Mailing Address
1500 N. Patterson St.
Valdosta, GA 31698