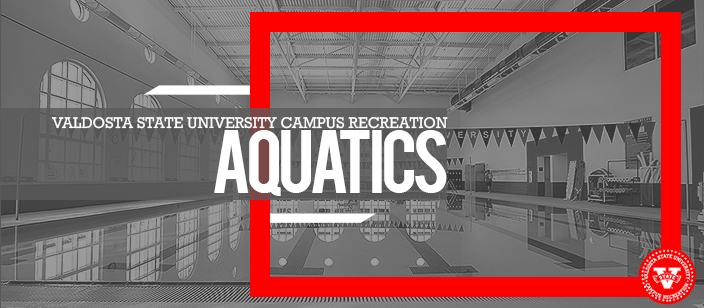 Aquatics
The 7,000 sq. ft. natatorium at VSU's Student Recreation Center houses an indoor pool heated year round. Six 25-yard lanes are available for lap swimming, sloping in depth from 4 – 9ft. An assortment of aquatic exercise equipment remains free for patron use: kick boards, ankle and wrist weights, aqua jogger belts, noodles and more are on hand to enhance your aquatic workout.
Swimming is an ideal, all-around exercise for all ages and body types. It's one of the few sports that uses and tones all of the major muscle groups while promoting flexibility in the joints without straining them! Swimming improves your cardiovascular system and lung capacity so that you have enough energy for things other than your workout!
Please Note: The pool will close for severe weather or lightning, and possibly for other unexpected reasons.
Front Office
229.259.5088
After Hours
CORE Outdoors
IM and Club Sports
Aquatics
Fitness
Campus Address
1300 Sustella Ave.
Valdosta, GA 31698
Mailing Address
1500 N. Patterson St.
Valdosta, GA 31698