The DAISY in Training Award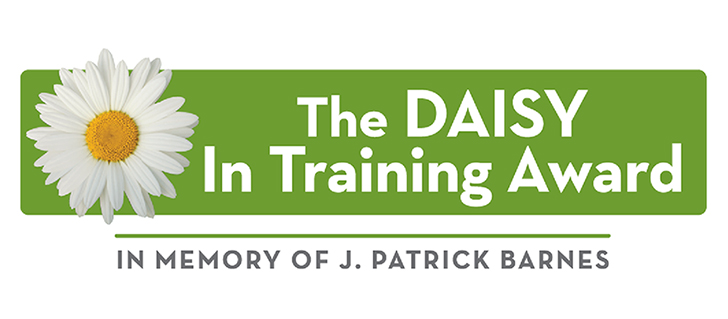 About The DAISY Foundation   
The DAISY Foundation was established in 1999 in memory of J. Patrick Barnes who died (at the age of 33) from complications of the auto-immune disease Idiopathic Thrombocytopenic Purpura (ITP).  Patrick's family was very touched by the remarkable compassion and clinical skill demonstrated by Patrick's nurses during his illness, so they created DAISY to recognize exceptional nurses everywhere.  The DAISY Foundation is dedicated to saying "thank you" to nurses and is now proud to recognize nursing students for their care of patients and their families.                                                        
Learn more about The DAISY Award for Extraordinary Nurses and The DAISY in Training Award at DAISYfoundation.org
About the Award Program
The DAISY in Training Award ™ is designed to remind students, even on the hardest days in nursing school, why they have chosen nursing as a profession.  By recognizing nursing students for the above-and-beyond care and compassion shown to patients and their families we celebrate what it truly means to be a nurse. We honor the nurse-patient connection that makes all the difference to patients and their families in their healthcare experience and that makes great nurses truly great.
How to Nominate
Patients, families, visitors, staff, physicians, preceptors, instructors or unit directors may nominate a deserving student nurse. 
Criteria for the Nomination include:
Compassion: Demonstrates outstanding compassion at the bedside.
Advocacy: Demonstrates exceptional service as a voice for patient needs or wants
Leadership: Demonstrates excellence in team collaboration and skill in the clinical setting
You can nominate an extraordinary student nurse for this award by completing the electronic form available here.
Also, we have a printable form available here.
Award Honoree
Each DAISY in Training Award Honoree will be recognized at a public ceremony in her/his school and will receive: a beautiful certificate, a DAISY in Training Award pin, and a hand-carved stone sculpture entitled A Healer's Touch. Additionally, everyone in the classroom will celebrate with Cinnabon® cinnamon rolls – a favorite of Patrick's during his illness. The DAISY Foundation asks that whenever and wherever nurses and students smell that wonderful cinnamon aroma, they stop for a moment and think about how special they are.
College of Nursing and Health Sciences
Health Sciences and Business Administration Building
2525 N. Patterson St.
Valdosta, Georgia 31698
Mailing Address
1500 N. Patterson St.
Valdosta, GA 31698
Fax: 229.333.7300

Monday-Thursday




8:00 a.m.-5:30 p.m.




Friday




8:00 a.m.-3:00 p.m.