Welcome From the Dean
James C. Pace, PhD, MDiv, RN, FAANP, FAAN
Welcome to Valdosta State University College of Nursing & Health Sciences (CONHS). Here, you will discover a vibrant academic institution that is driven by innovation, caring, compassion, respect for the dignity, diversity and value of all people, and the call to the highest standards of quality health care. Our faculty are expert educators, clinicians, and scholars who are sincerely committed to their students and who help create an exceptional learning environment in which you can achieve your educational, professional and personal goals. Our mission, purpose, and vision are grounded in The Blazer Creed.*
Valdosta State University College of Nursing and Health Sciences encompasses a wide spectrum of healthcare disciplines and a wide array of undergraduate and graduate programs that prepare students for current and future challenges in an increasingly complex health care landscape. Our graduates make lasting contributions to the health and well-being of clients and their families across multiple disciplines of care.
Visit our campus, meet our exceptional faculty, students and staff, and then join us in experiencing the future of nursing and health sciences. We will support you in your journey and help you succeed in a career that makes a meaningful and lasting difference in people's lives.
*The Blazer Creed
Valdosta State University is a learning environment based on trust and mutual respect in which open dialogue, vigorous debate, and the free exchange of ideas are welcome. The University is equally dedicated to the core values of community, including a commitment to practice civility, integrity, and citizenship. As members of the community, and proud Blazers, we will strive to uphold these core values for the advancement of the University.
Civility – A CONHS Blazer shows courtesy and compassion as well as respect for the dignity of every human being.
Integrity – Each CONHS Blazer is responsible for his or her own actions, and our community is stronger when we contemplate the context of our decisions and uphold the principles of trust and honesty.
Citizenship – Each CONHS Blazer has an interest in the well-being of the community, and, therefore, a duty to stay informed, to make positive contributions, and to offer support to those need help.
Excellence – Each CONHS Blazer is dedicated to creating a culture where transformation is embraced and reflected in evidence-based teaching and learning and is acheived by both faculty and students. All stakeholders value and benefit from exemplary scholarship, service, teaching, and practice.
Success – Each CONHS Blazer pursues growth through life-long learning, goal attainment, and collaborative partnerships among all stakeholders who serve to optimize the health of the region.
As a CONHS Blazer, I pledge to uphold the core principles of Civility, Integrity, Citizenship, Excellence and Success.
Come and be a part of VSU College of Nursing and Health Sciences! I hope to see you soon!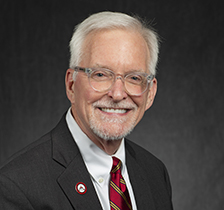 Dean James C. Pace
College of Nursing and Health Sciences
Health Sciences and Business Administration Building
2525 N. Patterson St.
Valdosta, Georgia 31698
Mailing Address
1500 N. Patterson St.
Valdosta, GA 31698
Fax: 229.333.7300

Monday-Thursday




8:00 a.m.-5:30 p.m.




Friday




8:00 a.m.-3:00 p.m.