Adult and Career Education (Ed.D)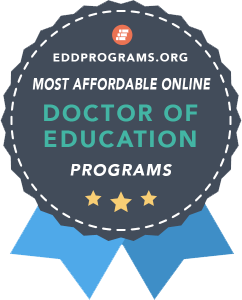 The Doctor of Education degree with a major in Adult and Career Education provides advanced, professional learning for individuals pursuing careers in teaching and leadership of adult and career education and related fields.
This program prepares students for working with adult learners in career education fields in the secondary and postsecondary education, private workforce education, and government agencies. The Ed.D. program requires a minimum of 46 semester hours of coursework and a minimum of 9 semester hours of dissertation work.
A comprehensive exam must be successfully completed for a student to enroll in dissertation courses. The program is designed as an interdisciplinary program. A faculty advisor will be assigned to each student based on the area of specialization. Within the program of study a minimum of 3 hours must be taken from courses offered outside the College of Education & Human Services. The advisor and the student will jointly complete an approved program of study to be followed by the student. The program is delivered via a combination of online and hybrid courses, with the majority of courses offered 100% online.
Up to nine graduate credits that have not been applied to the earning of another graduate degree may be transferred into the program from other regionally accredited graduate programs.
Click here for access to all forms needed by students to complete the dissertation process.
Admission Score Requirements: GRE quantitative score of 146 or above; the score on the verbal portion must be 148 or more; an analytical writing score of 4.5, or receive a MAT raw score of 400.
Ed.D. - Adult and Career Education Degree Requirements
AREA A: Disciplinary Studies - 9 Semester Hours
ACED 9400 - Adult Learning Strategies. . . 3 hours

and two of the following three courses:

CIED 9100 - Curriculum Desig, Implementation and Evaluation ... 3 hours

LEAD 9030 - Leadership Problems: Interdisciplinary Analysis ... 3 hours

EDUC 9000 - Interdisciplinary Studies in Education - 3 hours
AREA B: Educational Inquiry - 16 Semester Hours
RSCH 9800 - Research Design and Foundations for Advanced Quantitative, Qualitative, and Mixed Method Research... 3 hours

RSCH 9820 - Qualitative Research Methods in Education ... 3 hours

RSCH 9840 - Quantitative Research Methods in Education . . . 3 hours

RSCH 9871 - Planning For Dissertation . . . 1 hour

RSCH 9872 - Dissertation Topic Conceptualization ... 3 hours

And ONE of the following:


RSCH 9860 - Advanced Mixed Methodologies . . . 3 hours
RSCH 9830 - Advanced Qualitative . . . 3 hours 
RSCH 9850 - Advanced Quantitative . . . 3 hours
AREA C: Major and Interdisciplinary Courses -21 Semester Hours
ACED 9410 - Diverse Populations in Adult and Career Education . . . 3 hours

ACED 9420 - Issues in Adult and Career Education . . . 3 hours

ACED 9430 - Leadership in Adult and Career Education . . . 3 hours

CIED  9400 - Review of Academic Discipline and Pedagogy Literature . . . 3 hours

Interdisciplinary Courses . . . 9 hours

Based on specialization and/or student career goals
Dissertation - 9 semester hours
ACED 9999 - Dissertation in Adult and Career Education
Total Hours for Graduation - 55
For further information contact:
Dr. Keith Waugh at ckwaugh@valdosta.edu or call (229) 333-5650 
For admission information please visit the Graduate School website.
Leadership, Technology, & Workforce Development
Curriculum, Leadership, and Technology Building
Second Floor
1310 N. Patterson St.
Valdosta, GA 31698
Mailing Address
1500 N. Patterson St.
Valdosta, GA 31698
Main Office
FAX
Fax: 229.259.5094