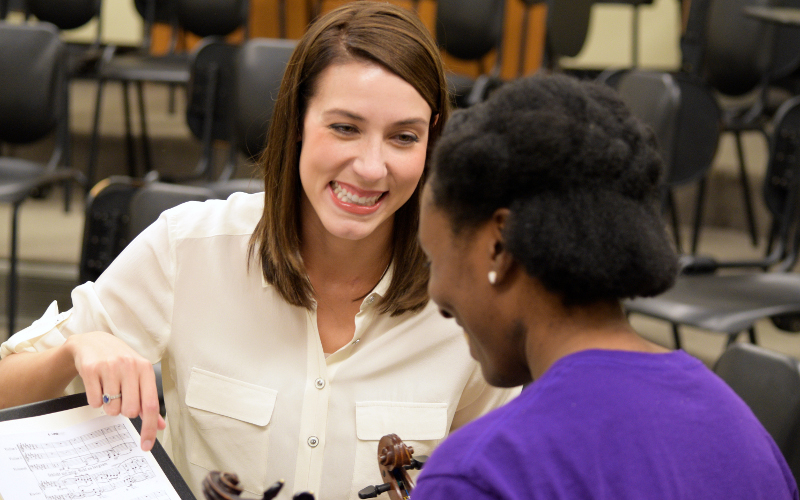 String Studies
The area of string studies at VSU affords college string majors, with the unique opportunity of working and playing with a regional, professional orchestra: The Valdosta Symphony Orchestra. As part of the outreach of the Valdosta Symphony, our students are also able to gain valuable experience working with young string players in the South Georgia String Project and the Valdosta Symphony Youth Orchestra. In addition to private lessons with our string faculty, master classes are taught by the many performers who come as recital artists or concert artists, performing with the Valdosta Symphony.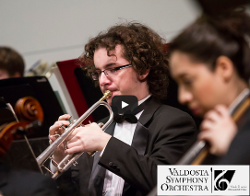 Thanks to the generosity of the Valdosta Symphony patrons, there are scholarships available for qualifying string students, majoring in music. Awardees are required to perform in the Valdosta Symphony Orchestra, including all rehearsals and concerts. Valdosta Symphony scholarships are awarded in addition to any other scholarship money students might be eligible for, such as Georgia's HOPE Scholarship.
Our string faculty come to us from major music schools and conservatories with background as professional performers. They serve as the principals in the Valdosta Symphony Orchestra, and as members of the Azalea String Quartet. Our bass teacher teaches in the string and jazz areas. Our faculty are always happy to help if you have further questions about string studies at VSU.
Faculty
The Orchestral Experience at VSU
Perform with the Valdosta Symphony Orchestra (VSO), a professional-level orchestra in residence at Valdosta State University (VSU).
Be a member of the region's premier orchestra, which draws wide audiences with its concert series featuring renowned soloists.
Perform exciting and challenging repertoire, such as Mahler's 2nd and 4th Symphonies, Tchaikovsky's 4th Symphony, Brahms's 2nd Symphony, Stravinsky's Firebird Suite and Debussy's La Mer.
Study with the Principal Players of the VSO, who serve as VSU music faculty.
Perform onstage with VSU faculty, other professionals from a 5-state region, and internationally acclaimed soloists such as pianist John O'Conor, violinist Robert McDuffie and cellist Wendy Warner.
Receive two lessons a week as a performance major.
Strategic Focus Scholarships for undergraduate string students

$3000 scholarship
Out-of-State tuition waiver for non-GA residents ($12,000 value)
Audition Requirements
Two movements of contrasting syle
Scales
229.259.5578
Campus Address
1500 N. Patterson St. Valdosta, Georgia 31698
Mailing Address
1500 N. Patterson St.
Valdosta, GA 31698
Monday-Thursday
8:00 a.m. - 5:30 p.m.
Friday
8:00 a.m. - 3:00 p.m.