The Jazz Ensembles at Valdosta State University include two large ensembles and three small combos. The ensembles are open to all students by audition.
Many concerts are live streamed on Facebook: 
VSU Jazz Ensemble
David Springfield, Director
MUSC 3870 A, Tuesdays and Thursdays, 12:30pm-1:45pm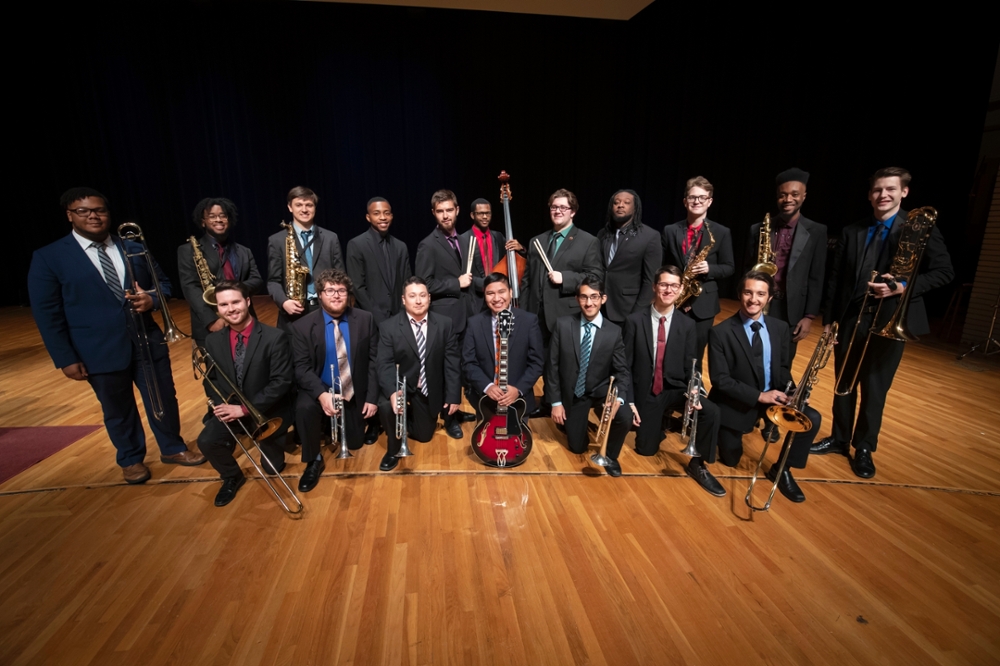 The VSU Jazz Ensemble is the premier performing ensemble in the Jazz area. The group performs at least four concerts per year on campus with a repertoire ranging from Big Band Era standards to contemporary styles and original jazz compositions. Recent guest artists include vocalist Carmen Bardford; saxophonists Don Braden and Chris Vadala; trumpeter Marvin Stamm; trombonists John Fedchock and David Gibson; drummers Dennis Mackrel and Mike Clark; guitarist Bob Sneider; bassists John Clayton and Chuck Israels; and composer Fred Sturm. The Jazz Ensemble has performed at the Georgia Music Educators In-Service Conference, the North American Saxophone Alliance Southeast Region Conference and at Spivey Hall in Atlanta.
VSU New Jazz Ensemble
Andrew Nelson, Director
MUSC 3870 B, Tuesdays and Thursdays, 12:30pm-1:45pm

The VSU New Jazz Ensemble performs at least two concerts a year on campus and is ideally suited to students wishing to gain valuable experience in the jazz idiom. The repertoire is exciting and varied, with a strong emphasis on fundamentals of the style.
VSU Jazz Combos
David Springfield, Matthew Roehrich and Tod Leavitt, Directors
MUSC 4870 A-C, Mondays and Wednesdays, 2:00-2:50pm and 3:00-3:50pm

The Valdosta State University Jazz Combos are small performing groups comprised of five to eight players. The combos perform material from the traditional and contemporary jazz repertoire with emphasis on small group performing skills and jazz improvisation. The combos have performed at a number of jazz festivals, clinic workshops, and social events over the years. The VSU Honors Jazz Combo recently traveled to China for a week of concerts at the American Cultural Center at Shanxi University.
Department of Music
1500 N. Patterson St. Valdosta, Georgia 31698
Mailing Address
1500 N. Patterson St.
Valdosta, GA 31698
Fax: 229.259.5578
Monday-Thursday
8:00 a.m. - 5:30 p.m.
Friday
8:00 a.m. - 3:00 p.m.