Events & Announcements
Valdosta State University
AAMI African American Male Initiative Program
The University System of Georgia's African-American Male Initiative (AAMI) is a nationally recognized statewide network of programs that has a documented track record of increasing the enrollment, retention, and graduation of African-American males within Georgia's public colleges and universities. Since the project's inception in fall 2002, literally thousands of African-American males have matriculated within and graduated from University System of Georgia (USG) institutions. AAMI programs are presently operating on 26 of the 29 USG campuses throughout the state of Georgia. These programs serve a wide array of students, providing strategic interventions, academic support, and civic and professional exposure aimed at increasing their successful matriculation and graduation.
AAMI is widely credited with being the first-ever statewide effort specifically focused on increasing post-secondary educational attainment among Black males. Peers in the higher education community continuously seek to learn from and adopt AAMI's trailblazing model as awareness has increased nationally of the ethnic and gender disparities prevalent on college campuses across the country. The College Board – the nation's standard bearer for higher education access – has cited AAMI for its progress in closing postsecondary achievement gaps between Black male and female students in the state. The project also has been frequently cited and profiled in key media outlets, including The New York Times, USA Today, The Chronicle of Higher Education, Diverse Issues in Higher Education, Inside Higher Education, among others. AAMI's work in improving educational outcomes for Black males is now positioned as a national model and as a potential demonstration project.
CONFERENCE REGISTRATION & DETAILS COMING SOON!
***************************************************************************************************************************************************************************


50 Years of Integration: Pioneers Robert Pierce & Drewnell Thomas
Robert Pierce and Drewnell Thomas were the first two African American students who enrolled in classes on September 18, 1963 after Valdosta State University integrated. Click on the links above to hear both of their stories and more at the Voice.
VSU TO COMMEMORATE 50 YEARS OF INTEGRATION
VALDOSTA – On Sept. 17, 1963, Valdosta natives Drewnell Thomas and Robert Pierce Jr. led the way for integration at Valdosta State College. The two young students joined the freshman class for orientation and the following day settled into their campus routines. They played a pivotal role in forging a historical and cultural legacy that continues at Valdosta State University.
"History was made on the VSU campus 50 years ago when Ms. Drewnell Thomas and Mr. Robert Pierce Jr. integrated our campus," said Student Government President William C. Jimerson. "Their bravery opened the doors to diversity and the inclusion of all students. It is important that we reflect on this bravery and courageousness that has allowed each and every student an opportunity to pursue higher education at VSU regardless of race. We salute and recognize these two trailblazers and all of the VSU pioneers not only just this year but every day on our journey as Blazers and as we pursue to become innovators of the 21st century."
Throughout the 2013-2014 academic year, VSU will celebrate the 50th anniversary of its integration with a series of events, including programs, lectures, art exhibits, historic presentations, and panel discussions. The events, sponsored by the university and student organizations, recognize and honor the impact of Thomas and Pierce, as well as other pioneering students, faculty, staff, and alumni.
Valdosta State University will kickoff "50 Years of Integration: A Celebration of Inclusion," a yearlong commemoration of integration and its historical impact and how it has shaped the university, on Sept. 18. 
F
aculty, staff, and students are invited to attend the Heritage Community cookout from noon to 2 p.m., Palms Quad. The event, sponsored by the Langdale College of Business Administration, will include a proclamation from the City of Valdosta and Lowndes County recognizing the significance of the milestone in the university's history.
Later that evening various student organizations are sponsoring "A Look Back and 50 Years Forward Kickoff Reception," 6-8 p.m., Bailey Science Center Auditorium, room 1011. The event is open to the public free of charge.
The VSU integration celebration committee has been instrumental in bringing together a cross section of the campus community, as well as members of the surrounding community, to determine what shape the university's celebration would take," said Dr. Maggie Viverette, director of Social Equity. "The committee members have been working tirelessly to create a calendar of events that reflect the significance of the celebration, honor the bravery of the pioneers, and engage the current VSU community to discuss paths for future progress."
Just as the changes that occurred on the campus 50 years ago impacted the faculty, staff, and students it is the hope of the committee that the schedule of events will engage and impact the subgroups of today's campus community," said Viverette.
The Office of Communications has established a "50 Years of Integration: A Celebration of Inclusion" website and Facebook page that highlights the yearlong celebration and provides stories on Valdosta State's pioneers, photographs, and updates on events associated the commemoration. Visit the website at http://www.valdosta.edu/about/news/integration/ and follow on Facebook at VSU50.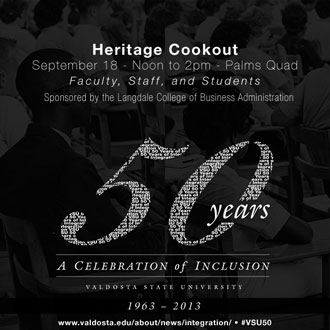 "A World of New & Exciting Possibilities":
DR. SHIRLEY HARDIN: 
MENTORING AND INSPIRING STUDENTS FOR 35 YEARS
Valdosta State University honored 381 faculty and staff during the annual recognition luncheon on Jan. 31. Employees were given a certificate and commemorative pin from President William J. McKinney for their various years of service. With 35 years of service, Dr. Shirley Hardin, director of African American Studies and professor of English, has worked with five presidents and witnessed the transition to university status, along with countless other milestones in Valdosta State University's history. Growing up in Early County, Hardin was one of seven children born to Freddie and Susie Hodge, parents who instilled in her and her siblings the importance of education, a lesson she has carried throughout her life and shared with hundreds of students that she has mentored and inspired at Valdosta State and in the community.
"I am convinced that the part of my job I enjoy the most is imparting knowledge to my students and learning from them as well," Hardin said. "As a teacher, I pray that I am able to look beyond an individual's apparent flaws, social handicaps and academic shortcomings, to envision the success that person can become." Hardin's positive synergy has been the driving force in the success of the African American Studies program, which began in 1996 and currently is the largest minor on campus with 125 students. "This program has afforded me the opportunity to see an interdisciplinary program take flight and soar to amazing heights," said Hardin, who is an active member of Delta Sigma Theta Sorority and past adviser for the Theta Tau chapter. "Work is under way to offer a Bachelor of Arts in African American Studies, a degree-granting program that will be second to none in the state and, eventually, in the nation." 

When she remembers more than three decades of service to Valdosta State, Hardin said she can recall many memorable experiences and accomplishments. One of her fondest memories includes the visit of Dr. Maya Angelou to Valdosta State in 1991. Regarded as one of the greatest voices in contemporary literature, Angelou's two-day visit had a tremendous impact on Hardin, who introduced her to an auditorium-packed audience. "Hours before her talk, she had signed hundreds of her books for eager fans and avid readers, including [then president] Dr. Hugh Bailey," said Hardin.

"One of the many things she shared that I have always remembered is, 'Never trust anyone who says I love you and does not love himself.' She further illustrated this message through a Ghanaian proverb, 'Never trust a naked man who offers you his only shirt.' In short, one must love him or herself first before he or she can love someone else. Angelou's visit to VSC was an experience of a lifetime." Hardin's reflective insight and deep desire to serve others has greatly benefited many students, faculty and staff at Valdosta State. In 2011, Hardin worked with former Valdosta State Director of Testing Mary Barron and her daughter, Lawanna Barron, to endow the Claydon Hayward Barron Memorial Scholarship. The scholarship encourages the highest educational goalspossible and is awarded annually to a Valdosta State student who is working toward a minor in African American Studies and demonstrates academic excellence.
Helping students achieve educational success is one of Hardin's greatest missions and is at the center of her work on campus and in the community. In 2005, Hardin led Valdosta State's African American Male Initiative HEROES Institute, which was sponsored by the University System of Georgia Board of Regents, to help increase the graduation rates of African American males from Georgia high schools and encourage post-secondary education. Under Hardin's leadership, the four-year program achieved an 85 percent success rate with students completing high school, enrolling in college or the military or securing full-time employment. 

The mother of three children, Keltrice Monique, Eric Christopher, and Jeremy Chase, Hardin gives credit for her success to her family and relationship with God. At the cornerstone of her family is her husband Moses Hardin, who retired last year from Valdosta State and is the person she describes as "the love of my life.""My spirituality-- my relationship with God -- is what has kept me focused and productive all of these years at Valdosta State," Hardin said. "I truly believe in serving and honoring others."
If her hectic schedule on campus does not keep her busy enough, Hardin is an active member of the Morning Star Baptist Church, where she has, for many years, sung in the Mass Choir and taught the Young Adults Bible study and the Women's Ministry. She also chairs the Education and Scholarship Ministry at her church. Hardin, who is passionate about creative writing, is currently writing a book of poetry titled "Love and Laugh" and a manuscript titled "Us Somethin' Special: Four Generations of Southern African American Women's Voices," which chronicles the lives of Hardin, her grandmother, mother and daughter.
Hardin said her work at Valdosta State, with her church, and in the community has helped her embrace two philosophies. "First, I believe everyone born in this world is a marvelous creation and that there is something profound about every individual I have been privileged to meet," Hardin said. "Second, I embrace Dr. Angelou's mantra: 'I've learned that people will forget what you said, people will forget what you did, but people will never forget how you made them feel.'"
Campus Address


Nevins Hall - Room 1107

Mailing Address
1500 N. Patterson St.
Valdosta, GA 31698

Monday-Thursday




8:00 a.m.-5:30 p.m.




Friday




8:00 a.m.-3:00 p.m.