Rhaphiolepis indica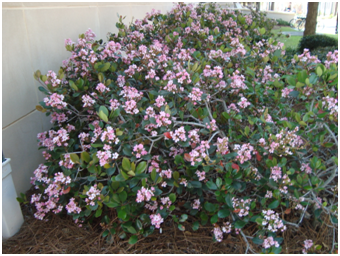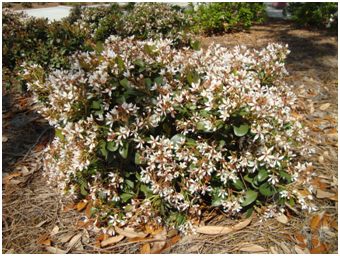 (Photos by Jessica Bartek; Pink variety on left, white variety on right)
---
---
Taxonomy (3,5)
Classification: Angiosperm, dicot
Family: Rosaceae
Common name: Indian Hawthorn
Varities on campus: Pink flowered variety (possibly Ballerina), white flowered variety (possibly Clara)
---
General Information (3,4,5)
Region of Origin: India and southern China
USDA Plants Hardiness Zones: 8-11
Growth Habit: Shrub
Size: Pink variety: 1-3 feet; White variety: 3-5 feet
Deciduous/Evergreen: Evergreen
Flowering: Pink variety: spring, fall, and winter; White variety: mid-April to May
---
Diagnostic Characteristics
Leaves (1,4,5)
Arrangement: Alternate
Simple/Compound: Simple
Shape: Oblong
Other: Serrated edges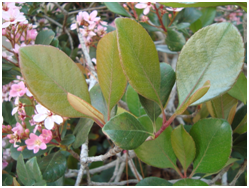 (Photos by Jessica Bartek; Pink variety on left, white variety on right)
---
Stem/Bark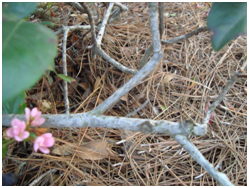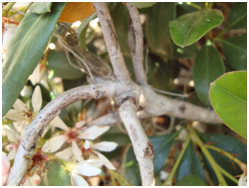 (Photos by Jessica Bartek; Pink variety on left, white variety on right)
---
Flower (1,5)
Perfect/Imperfect: N/A
Color: Pink variety: pink; White variety: white
Size: 1/2-5/8 inches
Inflorescence type: Panicle

(Photos by Jessica Bartek; Pink variety on left, white variety on right)
---
Fruit (1,4)
Fruit type: Pome
Size: 1/3-3/8 inches
Color: Blue-black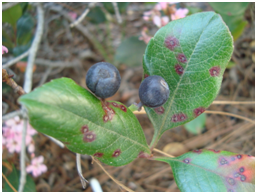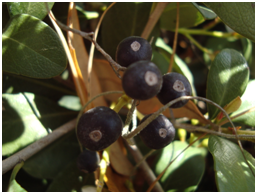 (Photos by Jessica Bartek; Pink variety on left, white variety on right)
---
Horticultural Information (1,3,4,5)
Light: Full sun to partial shade
Soil type: Well-drained
pH: Neutral
Maintenance: Easy to care for
Landscape uses: This is a very common plant used for foundation plantings, hedges, borders, and in highway medians.
Other: Pruning rarely needed, but best time to prune is in the spring. Fertilize only when new growth starts to appear.
---
Interesting Facts (1,2,4,5)
It is salt tolerant.
Entomosporium is a common disease among this species. It caused by a fungus when there is too much moisture on the leaves. It can be managed by improving air flow by spacing out the plants, using drip irrigation, and pruning.
---
References
1) Culbert, D. (1998, March 29). Indian hawthorne brings spring flowers. Retrieved from http://okeechobee.ifas.ufl.edu/News columns/Indian.Hawthorne.htm
2) Eaker, T., & Little, E. (n.d.). Entomosporium leaf spot on indian hawthorne. Retrieved from http://www.ugaurbanag.com/landscapealert/entomosporium-leaf-spot-indian-hawthorne
3) Rhaphiolepis indica 'ballerina'. (n.d.). Retrieved from http://www.sonoma.watersavingplants.com/eplant.php?plantnum=543&return=b_aQ
4) Russ, K. (2000, April). Indian hawthorn. Retrieved from http://www.clemson.edu/extension/hgic/plants/landscape/shrubs/hgic1078.html
5) Scheper, J. (1999, April 03). Rhaphiolepis indica. Retrieved from http://www.floridata.com/ref/R/rhap_ind.cfm
---
Prepared by Jessica Bartek as a course requirement for BIOL 3630/5630, Spring 2013
Department of Biology
Room 2035, 2nd Floor
Bailey Science Building
Mailing Address
1500 N. Patterson St.
Valdosta, GA 31698
Fax: 229.245.6585

Monday - Thursday
8:00AM until 5:30PM
Friday
8:00AM until 3:00PM
Saturday - Sunday
Office Closed