Chionanthus virginicus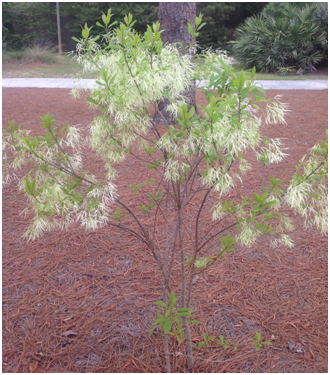 (Photo by Nicole Rutledge)
---
---
Taxonomy (1,3)
Classification: Angiosperm, dicot
Family: Oleaceae
Common name: Fringetree, Grancy Gray-beard, White Fringetree, Old-man's-beard
---
General Information (1,2,4)
Region of Origin: Southeastern United States
USDA Plants Hardiness Zones: 6-10
Growth Habit: Small tree or tall shrub
Size: 12-20 feet tall
Deciduous/Evergreen: Deciduous
Flowering: May to June
Fruiting: August to September
---
Diagnostic Characteristics
Leaves (1)
Arrangement: Opposite
Simple/Compound: Simple
Shape: Elliptic to obovate-oblong
Other: 3-8 inches long, sometimes pubescent on lower surface

(Photo by Nicole Rutledge)
---
Stem/Bark (1)
Color: Gray
Texture: Slightly ridged and furrowed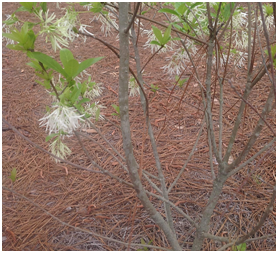 (Photo by Nicole Rutledge)
---
Flower (1)
Perfect/Imperfect: Imperfect (Dioecious)
Color: White
Inflorescence type: Panicle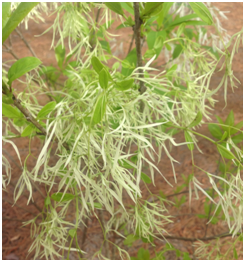 (Photo by Nicole Rutledge)
---
Fruit (1)
Fruit type: Drupe
Size: 1/2-2/3 inch
Color: Dark blue
---
Horticultural Information (1,2,4)
Light: Full sun to partial shade
---
Interesting Facts (2)
The bark has been used as the source of a tonic said to be a diuretic and a fever reducer.
---
References
1) Dirr, M. (1998). Manual of woody landscape plants: Their identification, ornamental characteristics, culture, propagation and uses (5th ed.). Champaign, Ill.: Stipes Pub..
2) Christman, Steve. (2004, April 16). Chionanthus virginicus. Floridata. Retrieved March 27, 2013, from http://www.floridata.com/ref/C/chionan.cfm
3) Brickell, C., Cole, T. J. (. J., & American Horticultural Society. (2002). American Horticultural Society encyclopedia of plants and flowers (Rev. and updated. ed.). New York: DK Pub..
4) Everett, T. H., & New York Botanical Garden. (1980). The New York Botanical Garden illustrated encyclopedia of horticulture. New York: Garland Pub..
---
Prepared by Nicole Rutledge as a course requirement for BIOL 3630/5630, Spring 2013
Edited by Jessica Bartek
Department of Biology
Room 2035, 2nd Floor
Bailey Science Building
Mailing Address
1500 N. Patterson St.
Valdosta, GA 31698
Fax: 229.245.6585

Monday - Thursday
8:00AM until 5:30PM
Friday
8:00AM until 3:00PM
Saturday - Sunday
Office Closed