Lagerstroemia indica

(Photo by Brittany Tatum)
---
---
Taxonomy (4)
Classification: Angiosperm, dicot 
Family: Lythraceae
Common name: Crape Myrtle
Varieties on Campus: Tuscarora, Miami, Sioux, Natchez, Muskogee
---
General Information (2,4)
Region of Origin: Asia
USDA Plants Hardiness Zones: 7-9 (8-10 for Tuscarora)
Growth Habit: Large shrub or small tree
Size: 15 feet tall (Tuscarora), 16 feet tall (Miami), 18 feet tall (Sioux), 18-21 feet tall (Natchez and Muskogee)
Deciduous/Evergreen: Deciduous
Flowering: July-September
---
Diagnostic Characteristics
Leaves (4)
Arrangement: Opposite or whorled
Shape: Elliptic to obovate to oblong
Other: 1-2 3/4 inches long, 3/4-1 1/2 inches wide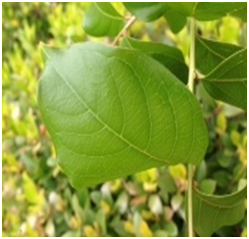 (Photo by Brittany Tatum)
---
Stem/Bark (4)
Color: Light brown (Tuscarora), Maroon- young, gray-brown- older (Miami), dull red to gray brown (Sioux), cinnamon-brown (Natchez), light gray to tan (Muskogee)
Texture: Exfoliating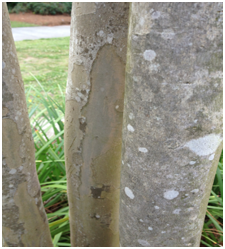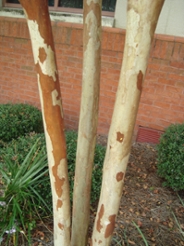 (Photo on left by Brittany Tatum, photo on right by Jessica Bartek)
---
Flower (4)
Color: Dark coral-pink (Tuscarora), Dark pink (Miami and Sioux), White (Natchez), Light lavender-pink (Muskogee).
Size: 5-12 inches long (Tuscarora), 5 1/2-9 1/2 inches (Miami), 5-9 inches (Sioux), 6-12 inches (Natchez), 4-10 inches (Muskogee)
Inflorescence type: Panicle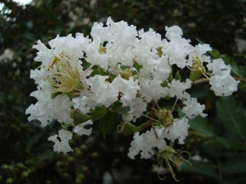 (Photo by Jessica Bartek)
---
Fruit (4)
Fruit type: Dehiscent capsule
Size: 1/2 inch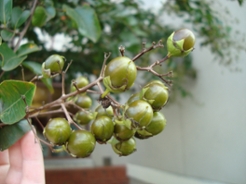 (Photo by Jessica Bartek)
---
Horticultural Information (1,2,3,4)
Light: Full sun
pH: 6.0-6.5
Maintenance: Very easy to care for
Landscape Uses: Hedges, screens, masses, ornamentals
---
Interesting Facts (2,4)
The Crape Myrtle flowers from about 60-120 days, making it one of the longest blooming trees.
Tuscarora and Miami are hybrids obtained by crossing Lagerstroemia indica with L. Fauriei or L. speciosa. The U.S. National Arboretum created this beautiful plant and it is known as the Indian Tribe group which was named for American tribes. 
Sioux won a Georgia Gold Medal in 1996 and a Mississippi Medallion in 1999.
Muskogee is a hybrid between L. indica and L. fauriei.
---
References
1) Bender, S. Crepe Myrtle-Your Questions Answered. 2009. Southern Living: The Daily South. http://thedailysouth.southernliving.com/2009/07/10/crepe-myrtle/
2) Christman, S. Lagerstroemia indica.1997. Floridata. http://www.floridata.com/ref/L/lager_i.cfm
3) Crape Myrtle Varieties and Their Care Described by LSU Ag Center. Gardening 123. 2013. http://www.gardening123.com/articles/display_article.asp?MS=6&SS=60&ID=103253
4) DIRR, M. Manual of Woody Landscape Plants: Their Identification, Ornamental Characteristics, Culture, Propagation and Uses. 4th Ed.  1975. Stipes Publishing Company. 
---
Prepared by Brittany Tatum as a course requirement for BIOL 3630/5630, Spring 2013
Edited by Jessica Bartek
Department of Biology
Room 2035, 2nd Floor
Bailey Science Building
Mailing Address
1500 N. Patterson St.
Valdosta, GA 31698
Fax: 229.245.6585

Monday - Thursday
8:00AM until 5:30PM
Friday
8:00AM until 3:00PM
Saturday - Sunday
Office Closed