Juniperus virginiana

(Photo by Logan Petrey)
---
---
Taxonomy (1)
Classification: Gymnosperm
Family: Cupressaceae
Common name: Red Cedar
---
General Information (1)
Region of Origin: Eastern North America and southeastern Canada
USDA Plants Hardiness Zones: 3-9
Growth Habit: Tree
Size: 40-60 feet tall
Deciduous/Evergreen: Evergreen
Cones: September-October
Other: Dioecious
---
Diagnostic Characteristics
Leaves (2)
Arrangement: Opposite
Simple/Compound: Simple
Shape: Needle (young); Scale (mature)

(Photo by Logan Petrey)
---
Stem/Bark (2)
Color: Grayish to reddish
Texture: Fibrous

(Photo by Logan Petrey)
---
Female cone (2)
Shape: Berry-like
Color: Blue
Texture: Leathery
---
Male cone (2)
Texture: Papery
Color: Yellow-brown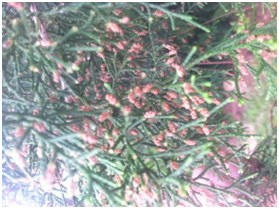 (Photo by Logan Petrey)
---
Horticultural Information (1)
Light: Full sun to shade
pH: Basic
Maintenance: Easy to care for
Landscape Uses: Shade tree
Other: Avoid dry and acidic regions, and do not plant near apple orchards as it is a host for Cedar-Apple rust.
---
Interesting Facts (1)
Red cedar wood is used to make fences posts and pencils.
The oil from the seed cones of Juniper trees are used to flavor gin.
Native Americans used the wood of red cedar for bows.
---
References
Christman, S. (2012). Juniperus virginiana. Retrieved from http://www.floridata.com/ref/J/Juniperus_virginiana.cfm
United States Department of Agriculture (n.d.). Eastern Red Cedar. Retrieved from http://plants.usda.gov/plantguide/pdf/cs_juvi.pdf
---
Prepared by Logan Petrey as a course requirement for BIOL 3630/5630, Spring 2013
Edited by Jessica Bartek
Physical Plant and Facilities Planning
Plant Operations 2903 N. Ashley St. Valdosta, GA 31698
Mailing Address
1500 N. Patterson St.
Valdosta, GA 31698
Fax: 229.245.3798
Work Order
Rate Us