Frequently Asked Questions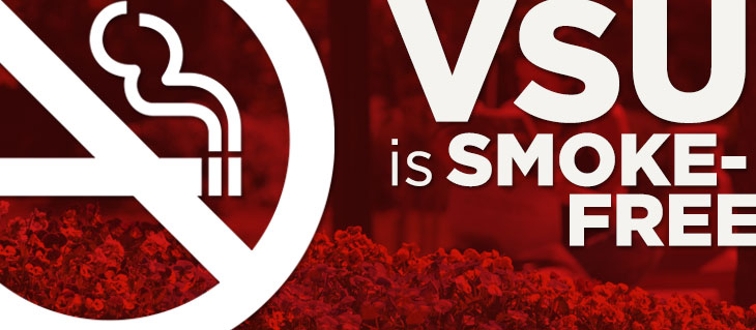 When did this policy go into effect?
October 1, 2014.
What is a Valdosta State University facility?
A VSU facility is defined as any property that is owned, leased, used or occupied by VSU, including but not limited to classrooms, restrooms, auditoriums, offices, lounges, dining areas, recreational facilitates, storage areas, service shops, garages, walkways, thoroughfares, facilities operations areas, athletic facilities, extension locations, VSU vehicles (owned or leased) and personally owned or rented vehicles when used to transport staff or students on any school-related business, academic or student life activities.
Who does this policy affect?
This policy applies to the entire VSU community, including but not limited to students, employees (faculty, staff, and administrators) trustees, visitors, volunteers, vendors and contractors who are on property and facilities owned and operated by VSU.
What does tobacco and smoke free mean?
Smoking or the use of any tobacco product will not be permitted. Use of smokeless tobacco, cigars, pipes and other tobacco products have been shown to lead to disease and death. Therefore, all tobacco products are not permitted.
What is considered a tobacco product?
Tobacco products include, but are not limited to; cigarettes, e-cigarettes, chew, pipes, cigars, hookah or water pipe smoking, and snuff.
Are there any designated smoking areas on campus?
No, there are none.
Can I smoke in my car?
Smoking in your personal vehicle is not permitted while on VSU campus premises including open parking lots and parking garages.
Human Resources and Employee Development
University Center
Building III
1205 N. Patterson St.
Valdosta, Georgia 31698
Mailing Address
1500 N. Patterson St.
Valdosta, GA 31698
M-TH 8am - 5:30pm and Friday 8am-3pm. Email and/phone calls responded to within 24hrs.  Thank you for your patience.