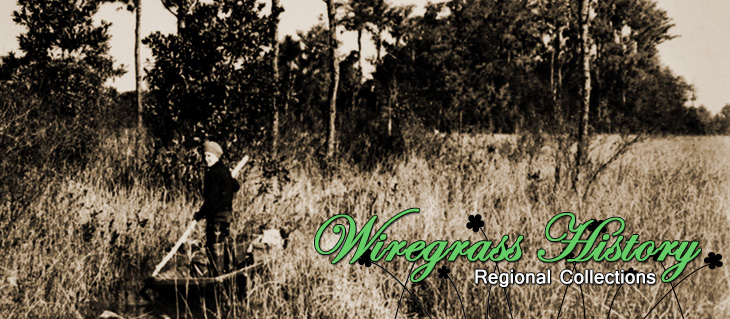 Regional Collections
Wiregrass country, named for its native tall grass (Aristida stricta), is a historic area of the South shared by south central Georgia, southeastern Alabama, and the panhandle of Florida. Wiregrass Georgia, folk-cultural traditions include a range of phenomena: folk art (quilting to yard decorations); festivals (peanut festivals to rattlesnake roundups); foodways (chicken pilaf to mullet); music and dance (shape-note singing to play-party songs); play and recreational activities (fireball to fishing); occupational lore (turpentining to shade tobacco); vernacular architecture (shotgun houses to tobacco barns); and religious observations (Baptist Union meetings to funerary customs).
Wiregrass folklore owes much to its ecosystem. Associated with the longleaf pine forest, wiregrass grows within a fire ecosystem. This wiregrass ecosystem, moreover, produces a high incidence of low intensity fires as one of its fundamental natural processes. Residents came to regard these fires as a tool to control their environment, and the wiregrass itself helped foster a particular lifestyle. It occurs, for instance, as a prominent motif in the region's oral tradition. Storytellers often incorporate it as part of the setting for their narratives of personal experience. In its unburnt state, wiregrass became an integral part of the terrain and served as cover for wildlife, a place where quail might nest or predators like rattlesnakes might lurk....read more. (Excerpt from the New Georgia Encyclopedia)
---
Newspapers
South Georgia Historic Newspaper Archive
Phone
Archivist
Campus Address
William H. Mobley IV Reading Room 
Odum Library
1500 N. Patterson St.
Valdosta, Ga. 31698
Mailing Address
1500 N. Patterson St.
Valdosta, GA 31698

Monday - Thursday

9:00am-5pm

Friday

9:00am-3pm

Odum Library is a Federal Depository Library.