Dr. Grażyna Walczak Honored with Presidential Excellence Award for Scholarship of Teaching and Learning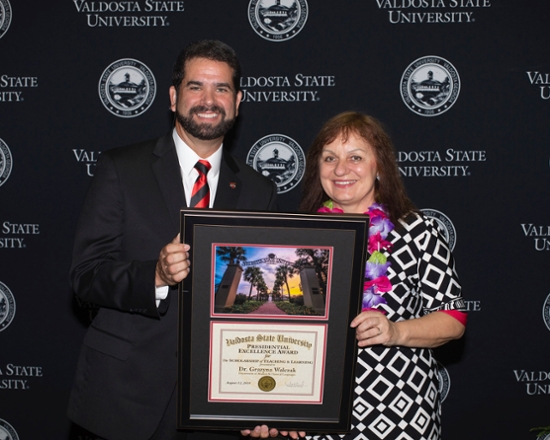 Dr. Grazyna Walczak (right) with VSU President Richard A. Carvajal
VALDOSTA — Dr. Grażyna Walczak is the recipient of Valdosta State University's 2019 Presidential Excellence Award for Scholarship of Teaching and Learning (SoTL).
The Presidential Excellence Award for Scholarship of Teaching and Learning recognizes a faculty member who produces innovative scholarly work on the science of teaching and learning and regularly contributes new questions and knowledge on the subject. Walczak, an associate professor of Spanish, was chosen for continually researching and implementing advanced technologies and teaching strategies to help overcome barriers in foreign language education, and then sharing what she's learned with fellow colleagues at VSU and beyond.
"Dr. Walczak is an effective, nurturing, and engaging instructor with a vast erudition and a native-like command of Spanish," said Dr. Ofélia Nikolova, interim head of the Department of Modern and Classical Languages. "She is second to none in her strive to make the material she teaches accessible to her students and their mastery of this material as easy, enjoyable, and motivating as possible. She is a champion of new teaching approaches and has dedicated much time and effort to experimenting with many of those in her long career of teaching the Spanish language and the literatures and cultures of Spain and the Hispanic world.
"Dr. Walczak's students rave about the clarity and organization of her classes, her knowledge of the subject matter, her dedication to them, the mutual respect that is the basis for her work with them, and her indefatigable effort to afford them new opportunities."
Walczak has worked extensively to address one of the biggest challenges for students in foreign language and culture courses — the oral component. In a fully online course, students have little to no face-to-face interaction, and in traditional or hybrid classes, students often experience great anxiety about speaking a foreign language in front of their peers, causing them to decrease their participation.
Taking these issues into consideration, Walczak has incorporated into her courses VoiceThread, a software that allows students to respond verbally to online discussion prompts and their classmates' responses. In online classes, the technology allows students ample opportunity to practice the language orally. In traditional and hybrid classes, the tool builds students' confidence by giving them the chance to practice their lines several times before recording a VoiceThread message. This also increases their participation in face-to-face conversations, Walczak said.
With support from a VSU I.D.E.A. Center Pedagogical Innovation Grant, Walczak documented her research on the use of VoiceThread and submitted it to the Spanish peer-reviewed journal "Pasavento." She has also offered multiple workshops at VSU on VoiceThread and other useful online tools, allowing colleagues to glean from her expertise.
"This research has a strong impact on the foreign language classroom," Nikolova said. "Dr. Walczak has been successful in helping overcome the biggest challenge in online language teaching — feelings of isolation and lack of live communication. Communication, and particularly good quality oral communication, is one of the hardest to achieve goals in a foreign language. By scaffolding student participation with the use of a recording tool that allows them to practice at home before recording, Dr. Walczak helps her students gain self-confidence in the target language and whets their appetite for oral production."
Walczak has conducted SoTL research on numerous other topics, including improving language learning skills in immigrant adults with disabilities and addressing the needs of English language learners. She has presented this research internationally and in the form of a book chapter — in collaboration with Dr. Michelle Ocasio, associate professor of Spanish — in "Computer Based Technology for Special Needs and Multicultural Education: Enhancing 21st Century Learning."
"Dr. Walczak's research is practical and applicable to a vast array of foreign language instructional contexts," Nikolova said. "It answers questions important for the newest trends in education and serves the advancement of her students. It helps her and her readers become more effective educators."
To better support student learning, Walczak uses movies, short stories, games, group compositions, presentations, and skits to make the class experience dynamic and enjoyable. She also makes herself consistently available to students through email, office visits, and even recorded lectures that students can watch online.
"I think that subject matter expertise and a strong research agenda is not all that is needed to be a great teacher," Walczak said. "It is my belief that great teachers are those who understand and serve students' needs. Each individual is unique and everyone should have the best opportunity to learn successfully. Thus, I strive to do the best in my role of teaching, supporting, encouraging, and, hopefully, inspiring every one of my students. 
 "Teaching is a dynamic process in which both teacher and student can learn. With every class, I learn to be flexible in my approach, and to communicate more effectively. This reciprocity requires humility and willingness to listen, adapt, and constantly innovate on the part of the teacher. I find the process of teaching and learning with every class enormously satisfying and rewarding. It gives me the opportunity to grow professionally while I empower my students through instruction, practice, encouragement, and a sense of community in the classroom." 
Walczak facilitates experiential learning for students in many ways. Since joining VSU in 2012, she has organized a study abroad program to Costa Rica or Ecuador every summer, allowing students to conduct service learning in orphanages, shadow medical professionals, and more. She takes students on field trips to the Salvador Dalí Museum in St. Petersburg, Florida, and to a migrant clinic in the area. 
She also regularly mentors numerous student research projects, many of which have been presented at VSU's Undergraduate Research Symposium and other professional conferences in the region.
Walczak holds a Licenciada (Bachelor of Arts equivalent) in German from the National Autonomous University of Mexico, a Graduate Certificate in Cuban Studies and a Master of Arts in Spanish from the University of South Florida, and a Doctor of Philosophy in Spanish from the University of Florida.
Each year, VSU continues its tradition of honoring faculty excellence with five awards recognizing the diverse talents and contributions of its innovative and active faculty. Awards are given for excellence in teaching, research, service, online teaching, and scholarship of teaching and learning. The 2019-2020 recipients were publicly recognized at the fall convocation and received a monetary prize of $1,000. 
On the Web:
https://www.valdosta.edu/academics/academic-affairs/presidential-excellence-awards.php
Newsroom
Office of Communications Powell Hall West, Suite 1120
Mailing Address
1500 N. Patterson St.
Valdosta, GA 31698
General VSU Information
Office of Communications