Our Team
Faculty
David M. Monetti, Ph.D., Director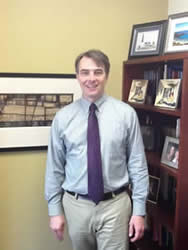 Dr. David M. Monetti is a professor of educational psychology at Valdosta State University.  He became interested in gifted education because of a desire to see all students succeed.  He has heard the "myth: gifted students don't need help; they'll do fine on their own." Those types of attitudes clarify that additional work and advocacy is necessary to help this group of students have sufficient opportunity for growth. 
Teaching in the modern classroom is a demanding enterprise that requires considerable knowledge, decision making, and preparation.  One of the defining features of a modern classroom is the variety of student learning needs that have to be addressed simultaneously.  "Gifted students receive less attention," as teachers focus on the majority of children in the class.  Dr. Monetti enjoys teaching the courses offered for the gifted endorsement because they afford him the chance to work with teachers trying to better understand the needs, instructional methods, and materials appropriate for the gifted.
Given his background and experience in secondary education, Dr. Monetti has collaborated with Dr. Julie Halter to create an annual Advanced Placement Summer Institute (APSI) that trains teachers in the skills necessary to successfully offer an Advanced Placement high school course.  These institutes have been offered for four years and they continue to demonstrate how important it is for high school students to have the opportunity to be exposed to high caliber, challenging Advanced Placement curriculum.
Dr. Monetti is also very interested in sharing and exchanging ideas.  He recently co-authored a book with Bruce Tuckman at The Ohio State University entitled "Educational Psychology" through Wadsworth Publishers.  A new version of the book will be released later this fall that includes a new feature called "Virtual Psychology Labs."  In these labs, teacher preparation students see course concepts brought to life through direct experience in web-based research simulations.  After participating in these labs inspired by classic experiments in psychology, students receive immediate feedback and explanations.
Dr. Monetti may be reached by email at dmmonett@valdosta.edu.
Katharine S. Adams, Ph.D.
Dr. Katharine S. Adams received her BS degree from the University of Florida, MS degree from Valdosta State University, and Ph.D. in Counseling Psychology and School Psychology from Florida State University. Her professional experiences include elementary and middle-school education and psychological assessment and counseling. She is a licensed psychologist and associate professor in the Department of Psychology and Counseling at Valdosta State University. Her current research interests include the social-emotional adjustment and academic success of both high and low achieving students as well as the social stigma associated with disability.
Dr. Adams may be reached by email at ksadams@valdosta.edu. 
Larry D. Hilgert, Ph.D.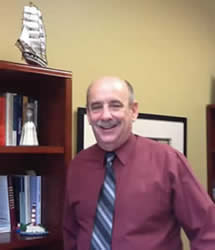 Dr. Hilgert received his BS degree from Indiana University; MS and Ph.D. degrees from Ball State University. He has been a Georgia licensed psychologist since 1988 and holds certification as a school psychologist at both the state and national levels. Through Valdosta State University he has served families requesting evaluation of their children for placement in academically gifted programs, families and children in Head Start, in group homes for displaced children and adults, in migrant farm clinics, and in specialized care facilities for individuals with a variety of challenges, severe disabilities, and traumatic brain injury, and [soon] in Mexico. His varied responsibilities currently include undergraduate instruction in introductory psychology and graduate course instruction as a university supervisor for practicum and internship in school, clinical and research settings. He is a member of the National Association of School Psychologists. 
Dr. Hilgert may be reached by email at lhilgert@valdosta.edu.
Jen Breneiser, Ph.D.

Dr. Jen Breneiser is an associate professor of cognitive psychology at Valdosta State University. Dr. Breneiser's current research interests center on applying theory in cognitive psychology to practice in the educational setting. One specific research interest relates to how learning and memory processes unfold for gifted learners in self-study as well as in the larger classroom setting. 
Dr. Breneiser may be reached by email at jebreneiser@valdosta.edu. 
Lee Grimes, Ph.D.


Dr. Lee Edmondson Grimes received her B.A. degree in English from Valdosta State University, M.S. degree in Counseling from the University of Georgia, and Ph.D. in Counseling and Student Personnel Services from the University of Georgia.  As a practitioner in the public school setting, Lee began her career as a high school English teacher and then worked as a school counselor at each level - elementary, middle, and high school.  Lee is a national certified counselor, licensed professional counselor, and certified school counselor.
Lee's research focuses on rural education including the practices of rural school counselors to meet student, family, and community needs through STEM career awareness and social justice advocacy. 
Dr. Grimes may be reached by email at legrimes@valdosta.edu.
Dr. Meagan Caridad Arrastia
Dr. Meagan Caridad Arrastia is an assistant professor of educational psychology at Valdosta State University. Dr. Arrastia was born and raised in South Florida and completed her B.A. and M.A. in Sociology from the University of Central Florida. After teaching at SAIL high school in Tallahassee, Florida and working as a testing consultant, she received her M.S. in Instructional Systems and Learning Technologies and her PhD in Learning and Cognition from Florida State University. Dr. Arrastia's current research interests include self-regulation, teacher beliefs, and literacy instruction.
Dr. Arrastia may be reached at mcarrastia@valdosta.edu. 
Graduate Assistants
| | |
| --- | --- |
| Ashley Lanier | Haley Dowling |
| | |
229.259.5576
Campus Address
Psychology Bldg. 3rd Floor
1500 N. Patterson St.
Valdosta, Georgia 31698 Email: giftedstudies@valdosta.edu
Mailing Address
1500 N. Patterson St.
Valdosta, GA 31698
Monday-Thursday
8:00 a.m.-5:30 p.m.
Friday
8:00 a.m.-3:00 p.m.