Flute Studio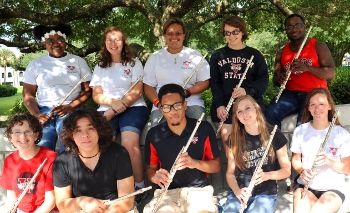 Valdosta State University offers its flute students a wide variety of performing opportunities for performance. Ensembles include the Valdosta Symphony Orchestra, Wind Ensemble, Concert Band, Flute Quartet, Flute Choir, various smaller chamber music groups including woodwind quintet, and the Blazin' Brigade Marching Band.
 
One of the outstanding features of the Music Department at Valdosta State University is the number of contact hours students receive from their individual applied music instructor. All Music Education and Bachelor of Arts majors at VSU receive a weekly one- hour lesson. Music Performance majors receive two one-hour lessons, double the amount of lesson time in most college programs. Additionally, all music majors attend a weekly one-hour master class with their instructor. Non-music majors at VSU can also register for applied flute lessons and audition for all ensembles.

Individual auditions may be scheduled at almost any time in the semester, although you are urged to audition as early as possible to ensure availability of scholarships. We are happy to schedule a day of activities for potential flute majors (and their parents) on their audition days, which can include a campus tour and observation of music classes.