Contact

General VSU Information


  229-333-5800

Office of Communications


  229-333-2163


  229-333-5983

Campus Address
Office of Communications Powell Hall West, Suite 1120
Mailing Address
1500 N. Patterson St.
Valdosta, GA 31698
Contact Us
Contact

General VSU Information


  229-333-5800

Office of Communications


  229-333-2163


  229-333-5983

Campus Address
Office of Communications Powell Hall West, Suite 1120
Mailing Address
1500 N. Patterson St.
Valdosta, GA 31698
Contact Us
March 10, 2014
14-78
Malynda Dorsey
Communications Specialist
Dr. Gene Smith Discusses The Slaves' Gamble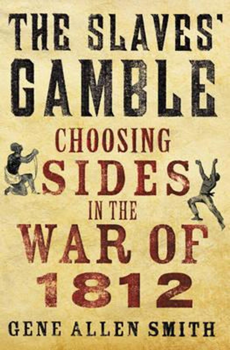 VALDOSTA – Valdosta State University will welcome Dr. Gene A. Smith to campus to discuss his book, The Slaves' Gamble: Choosing Sides in the War of 1812, Thursday, March 27 at 7 p.m. in Bailey Science Center, room 3007.
Smith's book focuses on free and enslaved blacks and their choice of which side they would fight for during the War of 1812.
"This thoroughly researched and readable book focuses, as its title suggests, on the identical choice blacks in bondage had to make again nearly 30 years after the War of Independence when war erupted once more in 1812 with Britain," said James Srodes in his review of the book in The Washington Times.
The book also delves into the deeper role that slaves played in military operations and the freedom that they found among the British Army, Indians and Spaniards during that time period.
Smith is a professor of history and the director of the Center for Texas Studies at Texas Christian University (TCU) in Fort Worth, Texas. The author of several books, he is also the curator of history at the Fort Worth Museum of Science and History.
Smith has received research awards from TCU and Montana State University-Billings, as well as fellowships from the Henry E. Huntington Library, Virginia Historical Society, U.S. Department of the Navy, U.S. Military Academy at West Point and the National Endowment for the Humanities.
Smith's visit is sponsored by Valdosta State's Department of History. For more information contact the department at (229) 333-5947.
Contact

General VSU Information


  229-333-5800

Office of Communications


  229-333-2163


  229-333-5983

Campus Address
Office of Communications Powell Hall West, Suite 1120
Mailing Address
1500 N. Patterson St.
Valdosta, GA 31698
Contact Us