February 3, 2014
14-31
Jessica Pope
Communications Specialist
VSU's Brent Williams Performs in Concert with ABAC's Doug Jurs Feb. 3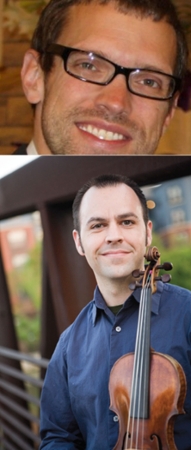 VALDOSTA — Valdosta State University's Dr. Brent Williams and Abraham Baldwin Agricultural College's Dr. Doug Jurs will perform in concert at 7:30 p.m. on Monday, Feb. 3, in Whitehead Auditorium. Admission is free and open to the public.
With Williams on violin and Jurs on piano, the performance, titled "Rhythm & Blues," will feature music composed by Libby Larsen, Maurice Ravel, and George Antheil, as well as four selections from George Gershwin's "Porgy and Bess."   
"Doug is someone I met while performing with my quartet enhake at ABAC last year. Upon speaking with him after that concert," noted Williams, who teaches in Valdosta State's Department of Music and serves as principal second violin with the Valdosta Symphony Orchestra, concertmaster of the Albany Symphony Orchestra, assistant concertmaster of the Tallahassee Symphony Orchestra, and violinist/violist for the award-winning enhake, "it was obvious to me that he had an appetite for new music, especially new American works, similar to mine, and as a result, we immediately started making plans to collaborate. We are so excited about this project, in fact, that we already have three or four programs picked out for future engagements. My only regret is that we have to take them one at a time.
"Needless to say, Doug is an outstanding musician and a great person to work with."
Born in Chicago, Jurs was appointed assistant professor of piano and music theory in the School of Liberal Arts at ABAC in fall 2012. He holds a Bachelor of Science in piano performance and English literature from Indiana University, a Master of Music in piano performance from the Cleveland Institute of Music, and a Doctor of Musical Arts in piano performance from the University of Wisconsin-Madison. He previously taught at both the University of Wisconsin-Madison and Edgewood College.
Jurs has performed solo and collaborative recitals in various cities across the United States and abroad in such cities as Vienna, Austria; Nice, France; and Milan, Italy. He has also appeared at a number of festivals, including the Aspen Music Festival, Banff Centre for the Arts in Alberta, Canada, the International Holland Music Sessions, and the Centre d'Arts Orford in Quebec.
Jurs is founder and artistic director of the Blue Horse Music Festival in Woodstock, Vt., a winter and summer concert series, and a longtime advocate for arts outreach. He has been known to perform in correctional facilities and psychiatric hospitals and was one of the first teachers to work with the University of Wisconsin Piano Pioneers program, which provides affordable music lessons to low-income students.
Contact Dr. M. Brent Williams at mbwilliams@valdosta.edu to learn more.
On the Web:
http://www.abac.edu/academics/schools/liberal-arts/faculty-staff/djurs
http://www.valdosta.edu/colleges/arts/music/bios/brent-williams.php