Contact

General VSU Information


  229-333-5800

Office of Communications


  229-333-2163


  229-333-2157


  229-333-5983

Campus Address
Office of Communications, 1120 Powell Hall
Mailing Address
1500 N. Patterson St.
Valdosta, GA 31698
Contact Us
Contact

General VSU Information


  229-333-5800

Office of Communications


  229-333-2163


  229-333-2157


  229-333-5983

Campus Address
Office of Communications, 1120 Powell Hall
Mailing Address
1500 N. Patterson St.
Valdosta, GA 31698
Contact Us
President McKinney appointed to Southern Georgia Regional Commission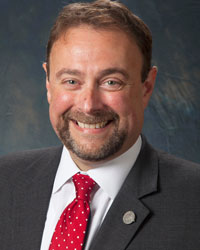 VALDOSTA—Valdosta State University President William J. McKinney has been appointed to serve on the Southern Georgia Regional Commission (SGRC) by Georgia Speaker of the House David Ralston.
The SGRC is a regional planning and intergovernmental coordination agency, which serves 45 municipalities and 18 counties in South Georgia, including Atkinson, Bacon, Ben Hill, Berrien, Brantley, Brooks, Charlton, Clinch, Coffee, Cook, Echols, Irwin, Lanier, Lowndes, Pierce, Tift, Turner and Ware.
"Like VSU, the SGRC is committed to engagement and to innovation, and so I am especially honored to have the opportunity to work with them," said McKinney. "I would like to thank Speaker Ralston for his faith in me, and most importantly for his faith in Valdosta State University. As a comprehensive university, we are committed to improving the quality of life and to being an economic catalyst in South Georgia. My work with the SGRC will be yet another way that VSU serves the citizens of Georgia." 
According to the SGRC website, the commission provides a variety of services and resources in response to the needs of local governments within its region, including comprehensive planning, local development regulations and other specialized planning studies. The SGRC Workforce Development Program works to improve the quality of life in South Georgia through the development and continuous improvement of a skilled workforce.
"We are especially pleased to have Dr. McKinney join us on the commission," said John L. Leonard, executive director of the SGRC. "He has already shown a strong desire to further economic development in the region, both personally and through the resources available to us at Valdosta State University. Dr. McKinney is an innovative thinker and being engaged with the community is integral to his management style. He should be a tremendous addition."
McKinney is a member of several national and state boards, including the Association of American Colleges and Universities (AAC&U) President's Trust for Liberal Education and America's Promise (LEAP), Council for Adult and Experiential Learning (CAEL), Georgia Chamber of Commerce Education and Workforce Development Committee and the Georgia Council on Economic Education.
For more information on the SGRC, visit the website at http://www.sgrdc.com/
Contact

General VSU Information


  229-333-5800

Office of Communications


  229-333-2163


  229-333-2157


  229-333-5983

Campus Address
Office of Communications, 1120 Powell Hall
Mailing Address
1500 N. Patterson St.
Valdosta, GA 31698
Contact Us