Group Fitness
Group Fitness offers a wide range of fitness classes for students, faculty, and staff, included in your SRC Membership. With over 35 classes offered per week during fall and spring semesters, there is something for everyone! Multiple formats are available with a schedule that spans 10 hours a day.
Our instructors are trained in-house or by a nationally accredited organization. Check out the schedule and find the perfect class for you!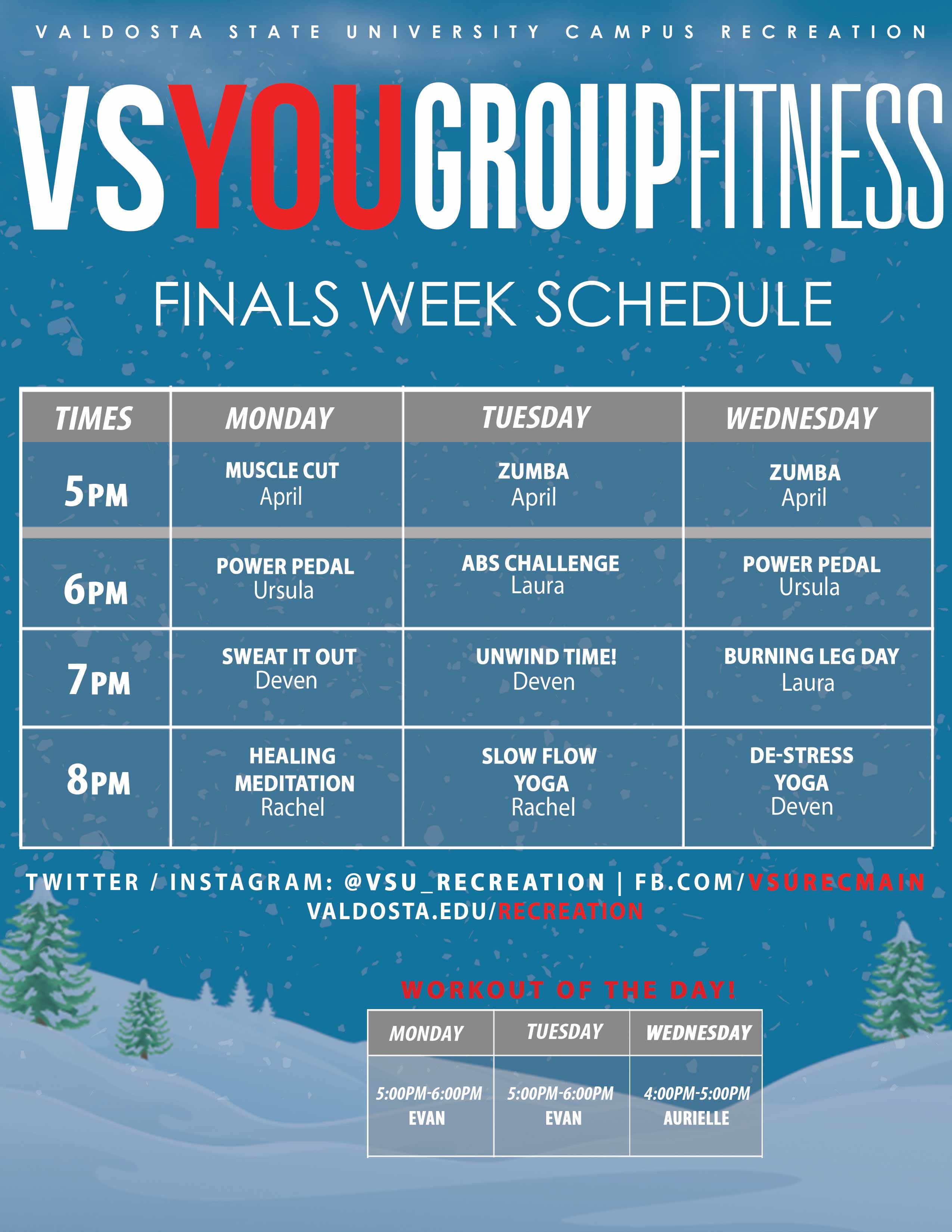 Finals Week Group Fitness Schedule:
Monday, Dec. 3rd: 5 PM Muscle Cut with April, 6 PM Power Pedal with Ursula, 7 PM Sweat it out with Deven, 8 PM Healing Meditation with Rachel. 
Tuesday, Dec. 4th: 5 PM Zumba with April, 6 PM Abs Challenge with Laura, 7 PM Unwind time with Deven, 8 PM Slow Flow with Rachel
Wednesday, Dec. 5th: 5 PM Zumba with April, 6 PM Power Pedal with Ursula, 7 PM Burning Leg Day with Laura, 8 PM De-stress yoga
Finals Week Workout of the day schedule:
Monday, Dec. 3rd: 5PM-6PM with Evan
Tuesday, Dec. 4th: 5PM-6PM with Evan
Wednesday, Dec. 5th: 4PM-5PM with Aurielle
Front Office
229.259.5088
After Hours
CORE Outdoors
IM and Club Sports
Aquatics
Fitness
Campus Address
1300 Sustella Ave.
Valdosta, GA 31698
Mailing Address
1500 N. Patterson St.
Valdosta, GA 31698