Our Facilities
Within Valdosta State University's Student Recreation Center, we have a series of areas specific for your training needs. Our facility is split up into three basic sections. There is a localized cardio area, a secluded circuit training room and a weight training area. Each section of our facility has unique equipment to aid you in your personal fitness goals. All of these studios are located on the second floor.
Functional Training Room
Come check out our brand new functional training room! This room includes cutting edge built in ground Olympic platforms, soft plyoboxes, tires, sleds, and various equipment to meet your fitness needs!
---

Weight Training Room
Our Weight Training Area, also located off of our indoor track, comes fully equipped with a wide range of weight training equipment for your weight training needs. This exclusive station includes: 31 selectorized machines, 1 Body Masters multi-station with 8 selectorized machines, an array of dumbbells with ranging weights between 5lbs. and 100 lbs., 3 bench presses, 2 inclines benches, 2 military benches, and 2 Hammer Strength power racks.
---

Pool Area
Campus Recreation's 7,000 sq. ft. natatorium houses a heated 4 - 9 ft deep indoor swimming pool with six 25-yard lanes available for lap swimming. To enhance your workout routine, a variety of aquatic excise equipment is also available free for use and includes kick boards, ankle and wrist weights, aqua jogger belts, noodles and more.
---
Climbing Wall
Experience the excitement of climbing on our 27 ft.(432 sq. ft) Climbing Wall that was built by Monolithic Sculptures. The custom built wall offers routes to beginners all the way to well seasoned climbers, and its realistic features offer the closest thing to climbing on real rock. Vertical and horizontal cracks, face climbs, overhangs, small ledges and interchangeable hand holds all provide a variety of challenges. No experience is necessary to climb! So come challenge yourself, hone your skills, and keep in shape! Climbing is FREE for VSU SRC Members and Guests!
---
Multipurpose Courts
Located on the first floor of the facility, six multi-purpose courts provide space for basketball, volleyball, and badminton. There are also 3 racquetball courts in this area.
---

Indoor Track
Located on the second floor of Valdosta State University's Student Recreation Center is a suspended 4-lane indoor jogging/walking track. It overlooks three basketball courts and three racquetball courts. The inside lane of our track is for walking and 10 full laps equals one mile. The outside lane of the track is for running and one mile can be attained by completing 8 full laps. The direction for the flow of traffic on our track changes daily and will be clearly noted by signs adorning the rails and walls.
---

Cardio Area
In the cardio area, the SRC has forty-one pieces of cardio equipment. Thirteen of these pieces are new and were purchased in December of 2007. This space is also equipped with eight 27" televisions to help pass the time as you are working out.
The various types of equipment located within our cardio area include: 6 Woodway Treadmills, 5 Precor Treadmills, 2 Precor AMT 100i Adaptive Motion Trainer Machines, 5 Precor EFX 576i Ellipticals, 3 Octane Ellipticals, 2 Cybex Arch Trainers, 2 Stairmasters, 4 Upright True 750u Bicycles, 5 Recumbent True 750r Bicycles, and 1 SciFit Arm Ergometer
---
Fitness Room
---
Floor Plan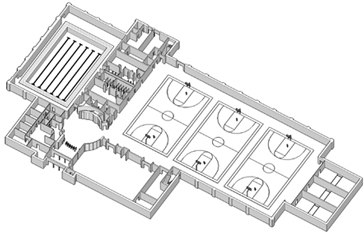 List of Fitness Machines Offered

VSU Campus Recreation is an Institutional Member of the National Intramural-Recreational Sports Association
Front Office
229.259.5088
After Hours
CORE Outdoors
IM and Club Sports
Aquatics
Fitness
Campus Address
1300 Sustella Ave.
Valdosta, GA 31698
Mailing Address
1500 N. Patterson St.
Valdosta, GA 31698