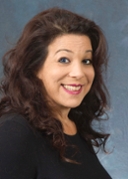 Dr. Amy Aronson-Friedman
Dr. Aronson received her Ph.D. in Hispanic Linguistics and Medieval Spanish Literature from Temple University, Philadelphia, PA.  She received a MA in Spanish from Middlebury College, Middlebury, Vermont and a MA in Political Science from Georgia Southern University, Statesboro, GA.  Her BA is in International Relations/Latin American Affairs from the George Washington University in Washington, D.C.  Recipient of a Fulbright Scholarship to Chile and Argentina, Dr. Aronson is director of the Peru Study Abroad Program.  She has published extensively on the conversos of Medieval Spain, and her book Marginal Voices: Studies in Converso Literature of Medieval and Renaissance Spain was published in 2012 by Brill.  When she is not teaching and publishing, she enjoys international travel, research and the continual study of foreign languages and cultures.
229.333.7416
Campus Address
1306 West Hall
Mailing Address
1500 N. Patterson St.
Valdosta, GA 31698

Monday to Thursday
8:00 a.m. to 5:30 p.m.
Friday
8:00 a.m. to 3:00 p.m.