Basic Pre-Licensure BSN Program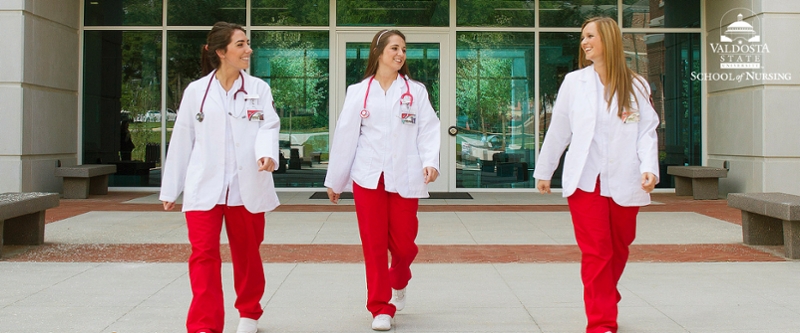 Welcome to the Valdosta State University School of Nursing Undergraduate Programs homepage.  All of the nursing programs (Bachelor's, RN-BSN, and Master's) at VSU have full approval from the Georgia Board of Nursing.  Both the baccalaureate and master's programs in the School of Nursing at Valdosta State University are fully accredited by the Commission on Collegiate Nursing Education (CCNE) through 2021.  We invite you to browse through our website to see what we have to offer.
Mission
"Regional Leaders for Nursing Excellence and Student-Centered Education"
Expanded Statement of Purpose
The College of Nursing and Health Sciences embraces the core characteristics of Valdosta State University as a comprehensive university. The School of Nursing strives to meet the needs of a diverse student population within the framework of the needs of nursing and health care in the region. The School of Nursing pursues excellence in the teaching/learning process and values interdisciplinary collaboration.
The administration, faculty, and staff of the School of Nursing are committed to the creation and development of a student centered, professional, supportive environment in which:
Baccalaureate students, prepared for entry level professional nursing, demonstrate critical thinking in the provision of ethical and holistic health care to individuals, families, and communities. Emphasis is placed on the art and science of nursing, as well as the application of humanities and the physical and behavioral sciences;
Graduate students, prepared for advanced professional nursing practice, demonstrate critical thinking in the provision of ethical and holistic specialized health care to individuals, families, and communities;
Professional development, continuing education programming and community service activities are provided to meet the needs of the region; and
Faculty advances the educational program and the profession of nursing through excellence in teaching, research, scholarship, and creative work.
Philosophy
Nursing is a caring, client-centered profession, grounded in a body of knowledge based on theory and research, using humanistic values of altruism, equality, justice, and human dignity to care for people.  Functioning within a professional community, nursing values evidence-based practice, ethical codes, an interdisciplinary culture, self-regulation, and authority over practice.  Providing an important, unique service, the nursing profession uses a body of theoretical knowledge from analytic and engaged ways of knowing applied to practice.  Professional registered nurses are inherently concerned with persons as whole beings in continuous interaction within multiple contexts and systems. 
Health is defined by individuals, groups, families, and communities within the context of their unique environments.  Environment refers to socioeconomic, sociopolitical, physical, psychosocial, and health care changes that create the dynamic world which provides our daily context of living.  The essence of nursing is to help persons attain and maintain wellness in every dimension of their being.  Professional registered nurses foster healing environments for diverse populations and strive to promote wellness and improve quality of life for people across the lifespan.
As regional leaders for nursing excellence and learner-centered education, we believe education transforms all involved, including a diverse population of learners, faculty, and clients.  Nursing education is committed to a technologically-enhanced learning community that promotes learner success.  We believe learners should be actively engaged, self-directed, accountable, and committed to lifelong learning.  Faculty members strive for instructional excellence, offer academic assistance, facilitate learning, and provide enrichment for learners by coaching, guidance, and mentorship.  Our purpose is to educate and graduate registered nurses who are competent, caring, holistic, and reflective.
Baccalaureate nursing education prepares safe, beginning generalists for entry into professional nursing practice.  Among the important roles of professional registered nurses educated at the baccalaureate level are competent car e provider, health care coordinator, manager, leader, change agent, and research consumer.  Graduate nursing education builds on baccalaureate nursing education and prepares professional registered nurses for advanced nursing practice in specialized clinical and functional roles.  Advanced nursing practice demands complex intellectual analysis, effective management and leadership, scholarship, and interpersonal competencies.  Graduate nursing education operationalizes the roles of advanced nursing practice and lays the foundation for doctoral study.
For more information about our programs, contact an Academic Advisor for the College of Nursing and Health Sciences, 229-253-2866 or conhsadvising@valdosta.edu

College of Nursing and Health Sciences
Health Sciences and Business Administration Building
2525 N. Patterson St.
Valdosta, Georgia 31698
Mailing Address
1500 N. Patterson St.
Valdosta, GA 31698
Fax: 229.333.7300

Monday-Thursday




8:00 a.m.-5:30 p.m.




Friday




8:00 a.m.-3:00 p.m.