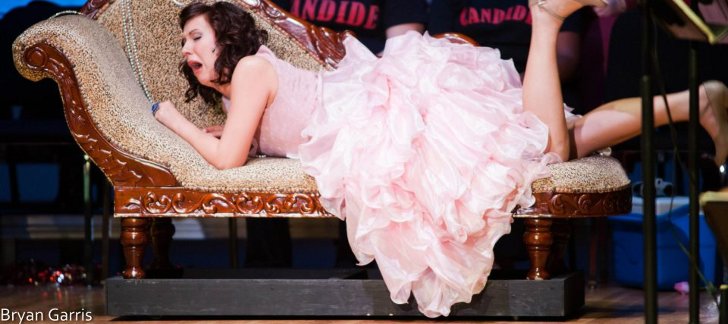 VSU Opera
Opera at VSU provides students with the opportunity to train in all aspects of operatic performance techniques. Through the creative effort and mentorship of a talented faculty, VSU students are provided a nurturing environment in which to develop as singing actors. In addition to musical coaching and diction, students receive comprehensive role preparation in the areas of movement, stage deportment, character development and analysis and other necessary theatrical skills.
Students who wish to participate in VSU Opera productions must have permission of the director and should enroll in Opera Workshop. Although the course is designed to help students integrate their acting and singing skills, participation is not limited to voice majors. Students enrolled will audition at the beginning of the semester and will be given roles appropriate to their abilities.
VSU Opera 2017 Presents:
Cinderella: The Opera! (Cendrillon by Jules Massenet sung in English)
Friday, Jan 20, 10:00 am, Youth Performance*

            Saturday, Jan 21, 7:30 pm

            Sunday, Jan 22, 3:00 pm


Ticket prices:

$25 General Admission

$20 VSU Faculty & staff

$20 Military

$5 Children and Students

VSU students free with ID
Whitehead Auditorium. Reservations Required
Call 229-333-2150


OPERA AFTER DARK 2017

"Wine, Women, and Song"

Thursday, April 20, 2017

A dinner-theater fundraiser at The Patterson in downtown Valdosta, serving fine cuisine and wonderful entertainment – featuring beloved vocal music performed by VSU Opera.
6:30 PM Heavy Hors d'oeuvres
7:15 PM Performance

The Patterson - 101 N Patterson St

Ticket price: $50; students $40*

(*$20 of adult and $10 of student tickets supports VSU Opera & is tax-deductable)
Reservations Required
Call 229-333-2150


If you are a lover of opera, please consider being a sponsor! The following tax-deductible sponsorship levels are available. Your name will appear in all opera programs.  Please call 229.333.2150 for more information.

Impresario $25,000
Maestro $10,000
Soprano $5,000
Tenor $2,500
Mezzo-Soprano $1,000
Baritone $500
Contralto $250
Bass $100
229.259.5578
Campus Address
1500 N. Patterson St. Valdosta, Georgia 31698
Mailing Address
1500 N. Patterson St.
Valdosta, GA 31698
Monday-Thursday
8:00 a.m. - 5:30 p.m.
Friday
8:00 a.m. - 3:00 p.m.