If you have ever participated in a choir in middle school, high school or through a church, or if you would just like to sing with other students in a fun and exciting environment, check out the choral opportunities, available to all students, here at VSU.
CONCERT CHOIR
Concert Choir is a non-auditioned choir which meets twice a week. Concert Choir is the largest vocal ensemble on campus and performs several times throughout the year, including large-scale works with the Valdosta Symphony Orchestra, as well as numerous smaller concerts featuring a wide array of musical styles. If you have a background in singing, such as church, middle or high school choir, instrumental experience, or if you just want to learn to sing, then come and be a part of the Concert Choir! You will meet people from virtually every major academic discipline and will build lasting friendships and memories.
MUSC 3820 – Tuesdays and Thursdays, 3:30 to 4:45 pm. 1-hour course credit.
MUSICAL UNION
Musical Union meets every Monday evening and is open to students, community members, faculty and staff members of VSU. There is no audition for entry, but there is an audition for placement. This chorus performs choral/orchestral masterworks as well as independent pieces reflective of all major periods of musical history. Several concerts are offered each year and the choir performs regularly with the Valdosta Symphony Orchestra. If you are looking for a great choral experience but have limited time available during the day, consider enrolling and participating in Musical Union. It is a great way to become invested in the Valdosta community.
MUSC 3910 – Monday evenings, 7:00 to 9:00 pm. 1-hour course credit.
CHAMBER SINGERS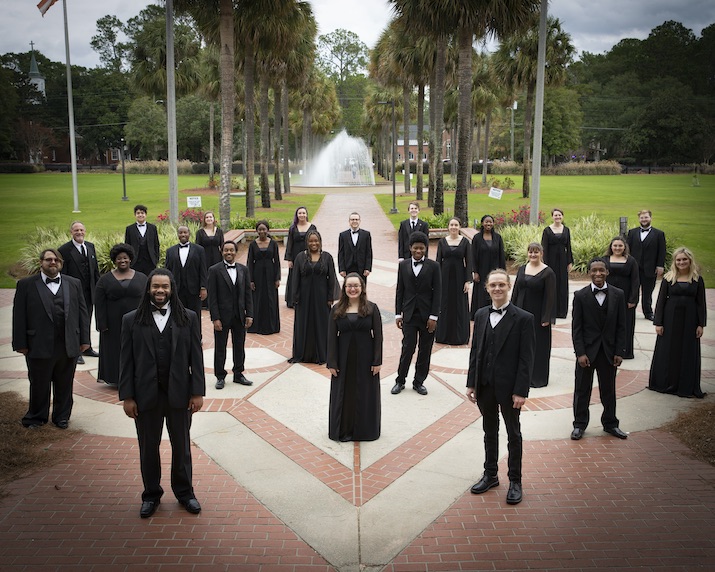 Chamber Singers is an auditioned vocal ensemble of 24 to 32 singers who are chosen for their vocal and sight-reading abilities. Although the choir is comprised primarily of vocal music majors, the ensemble is open to any student who would like to audition, regardless of major. This ensemble focuses on high quality performances of music from the Renaissance through the modern period and is the primary touring choral ensemble of the university. Auditions for Chamber Singers are held each Fall, the Sunday before classes begin and the first Monday of classes. An audition sign-up sheet can be found posted outside the choir rehearsal room.
MUSC 3810 – Mondays and Wednesdays, 12:00 to 12:50 pm and Tuesdays and Thursdays, 12:30 to 1:45
SPOTLIGHTERS
The VSU Spotlighters is a select ensemble of 8-12 singers chosen by audition from Chamber Singers and Concert Choir. This ensemble specializes in popular, jazz, blues, and show tune repertoire. This premier ensemble performs on and off campus for a variety of audiences. Auditions are held on the first day of classes. To audition, e-mail Dr. Wright at clewright@valdosta.edu 
 
MUSC 3830 – Mondays and Wednesdays, 1:00 to 1:50 pm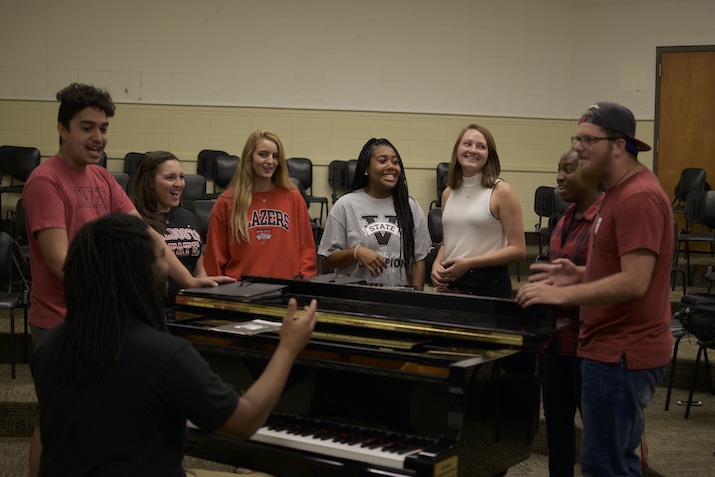 Department of Music
1500 N. Patterson St. Valdosta, Georgia 31698
Mailing Address
1500 N. Patterson St.
Valdosta, GA 31698
Fax: 229.259.5578
Monday-Thursday
8:00 a.m. - 5:30 p.m.
Friday
8:00 a.m. - 3:00 p.m.