Dr. Eric Chambers
E-mail: ewchambers@valdosta.edu
Education & Experience
B.A. Zoology/Spanish, Brigham Young University
M.S. Zoology, Brigham Young University
Ph.D. Biological Sciences, University of Notre Dame
Emerging Infectious Diseases Post-Doctoral Research Fellow, Centers for Disease Control and Prevention
Post-Doctoral Scholar, University of Kentucky
Teaching
BIOL 1107: Principles of Biology I
Research Interests
Mosquito phenotypes associated with vector competence as well as phenotypes for other behaviors can play an important role in disease transmission. My lab is interested in developing genetic markers and tools for mosquitoes with the goal of identifying the genetic determinants of vector competence. Identifying genes associated with vector competence as well as those for other mosquito phenotypes, could allow for the development of novel methods of vector control that would lead to decreased disease transmission and the alleviation of human suffering.
Research in my lab is focused on lymphatic filariasis (LF), a mosquito-transmitted disease caused by infection with nematode filarial worms. This disease is highly disfiguring and one of the leading causes of disability in the developing world. I also have plans to expand my work to newly emerging arboviruses (Dengue, West Nile virus, Chikungunya virus) that threaten the many island nations and territories of the Pacific.
Finally, I have an interest in developing novel methods of vector control based upon the exploitation of mosquito behaviors. Some mosquitoes show marked visual and/or olfactory preferences when searching for hosts or resting sites. The development of traps and targets based upon such preferences could play a role in disease transmission. My lab has the goal of developing such chemical-based tools using an integrated approach of laboratory and field studies.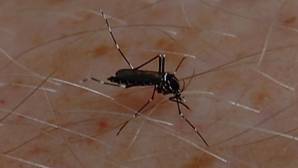 Professional Society
American Society of Tropical Medicine and Hygiene
Publications
Chambers EW, Hapairai L, Peel BA, Bossin H, Dobson SL. 2011. Male Mating Competitiveness of a Wolbachia–Introgressed Aedes polynesiensis strain under Semi-Field Conditions. PLoS Neglected Tropical Diseases 5(8): e1271.
Licitra B, Chambers EW Kelly R, Burkot TR. 2010. Detection of Dirofilaria immitis (Nematoda: Filarioidea) by Polymerase Chain Reactionin Aedes albopictus, Anopheles punctipennis and Anopheles crucians (Diptera: Culicidae) from Georgia, USA. Journal of Medical Entomology 47:634-638.
Mladonicky J, King JD, Liang JL, Chambers EW, Schmaedick MA, Burkot TR, Bradley M, Lammie PJ. 2009. Assessing transmission of lymphatic filariasis using parasitologic, serologic and entomologic tools following mass drug administration in American Samoa.  The American Journal of Tropical Medicine and Hygiene 80:769-773.
Chambers EW, McClintock SK,  Avery MF, Schmaedick MA, Lammie PJ, Burkot TR. 2009. An analysis of xenomonitoring of Wuchereria bancrofti and Dirofilaria immitis infections in mosquitoes from American Samoa: trapping considerations and a comparison of polymerase chain reaction (PCR) assays with dissection. The American Journal of Tropical Medicine and Hygiene 80:774-781.
Chambers EW, Meece JK, McGowan JA, Lovin DD, Chadee DD, Hemme RR, McAbee K, Brown SE, Knudson DL, Severson DW. 2007. Microsatellite isolation and linkage group identification in the yellow fever mosquito Aedes aegypti. Journal of Heredity 98:202-210.
Chambers EW, Lovin DD, and Severson DW. 2003. Utility of comparative anchor-tagged sequences as physical anchors for comparative genome analysis among the Culicidae. American Journal of Tropical Medicine and Hygiene 69:98-104.
229.245.6585
Campus Address
Room 2035, 2nd Floor
Bailey Science Building
Mailing Address
1500 N. Patterson St.
Valdosta, GA 31698

Monday - Thursday
8:00AM until 5:30PM
Friday
8:00AM until 3:00PM
Saturday - Sunday
Office Closed