After You're Accepted

Congratulations! We have reserved your space in Valdosta State University's Ignite Program! You were selected for this exclusive program based on your potential for success. You can look forward to many benefits as an Ignite participant. This will include having the chance to get acclimated to campus, earning credits early, and feeling a sense of comfort with your fellow classmates and professors. Now that you've been accepted, there are a few items you'll need to take care of before classes being to aid in your transition to Valdosta State. Click on the image below for an overview of information and deadlines: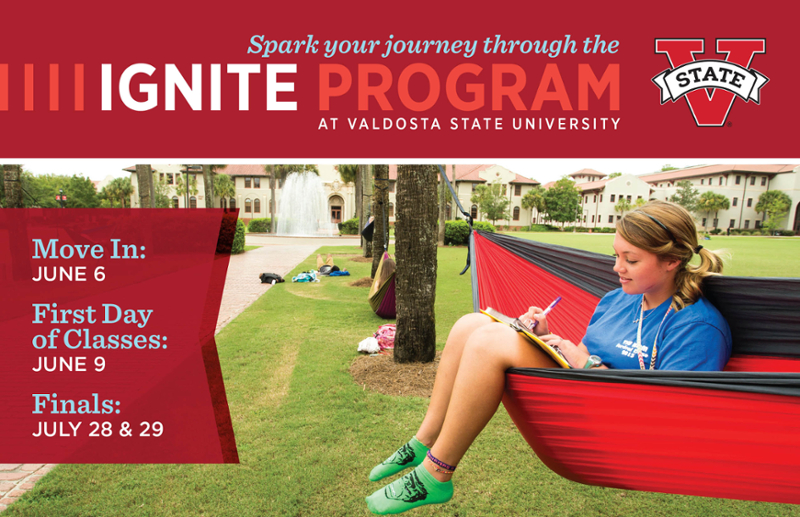 Housing
Students participating in Ignite will live in Lowndes Residence Hall for the summer semester only. An additional housing application will need to be completed for the fall semester. Housing registration will be available to you 7 days after you have been accepted to the program. Registration will require a housing application fee of $100 and a one-time housing deposit fee of $150 that will cover both Summer and Fall housing applications.
For more information on VSU Housing, please visit their website.
Financial Aid
Both 2019-2020 AND 2020-2021 FAFSA forms need to be completed by students participating in Ignite. Students MUST complete the 2019-2020 FAFSA (Free Application for Federal Student Aid) application in order for Ignite summer semester 2020 eligibility to be determined for federal financial aid programs. This includes student loan and grants as well as the HOPE Scholarship. Students MUST ALSO complete the 2020-2021 FAFSA application in order to be eligible for financial aid in the Fall and Spring semesters.
To find more information on eligibility and how to apply for financial aid, please visit Valdosta State University's Financial Aid Office's website, contact them at 229-333-5935, OR visit Federal Student Aid's website."
Orientation

Ignite Program students will be required to attend the Orientation session on June 8, 2020. During this session, you will:
Receive your class schedule
Receive your VSU 1Card (Student ID)
Meet with Financial Aid and Housing representatives who will be available to answer any questions you may have
Course Information
Ignite students need to register for the Summer Orientation session held June 8, 2020.
Ignite students DO NOT need to register for Ignite classes. You will be placed in the required classes a few weeks before the start of the program. To review your schedule, follow the steps below:
1. Log in to Banner
2. Click on the "Student Services and Financial Aid" tab
3. Select the "Registration" link
4. Select either "Student Schedule by Day & Time" or "Student Detail Schedule"
If you cannot view your Ignite schedule after following the directions listed above, please contact Centralized Advising (229-245-4378).
* Students enrolled in the Math Ignite cohort will need to purchase the following by June 10-11, 2019:
- Your book with MyMath Lab codes
- Graphing calculator (TI-83, TI-83 Plus, TI-84, or TI-84 Plus)
**Students enrolled in non-Math Ignite cohorts can review materials for their classes via their Banner account.