Welcome to SPARK! 
Become connected with campus and make friends on your first weekend living on campus!
We know you have a few questions:
Q: Who should attend?
A: All new, undergraduate students taking classes at VSU. Yes, those living on campus and those commuting to VSU. New transfer students are welcome too! *Important: If you are particpating in sorority recruitment, marching band, fall athletics, and other early move-in programs you should not follow the SPARK schedule.
Q: Why should I attend?
A: It's fun. You will learn more about campus life, involvement, and academics before starting classes. You meet new people. It's free, just bring your VSU One Card student ID!
Q: How long is it?
A: You should plan to attend the two full-days Thursday and Friday. Check out the full schedule here.
Q: Is it mandatory?
A: We are checking you into each event...for chances to win PRIZES and even MONEY! SPARK is designed to help you navigate college life and be successful here. I am guessing you want to start your VSU experience out the best way possible, RIGHT? 
2023 SPARK Abbreviated Schedule for Evening Events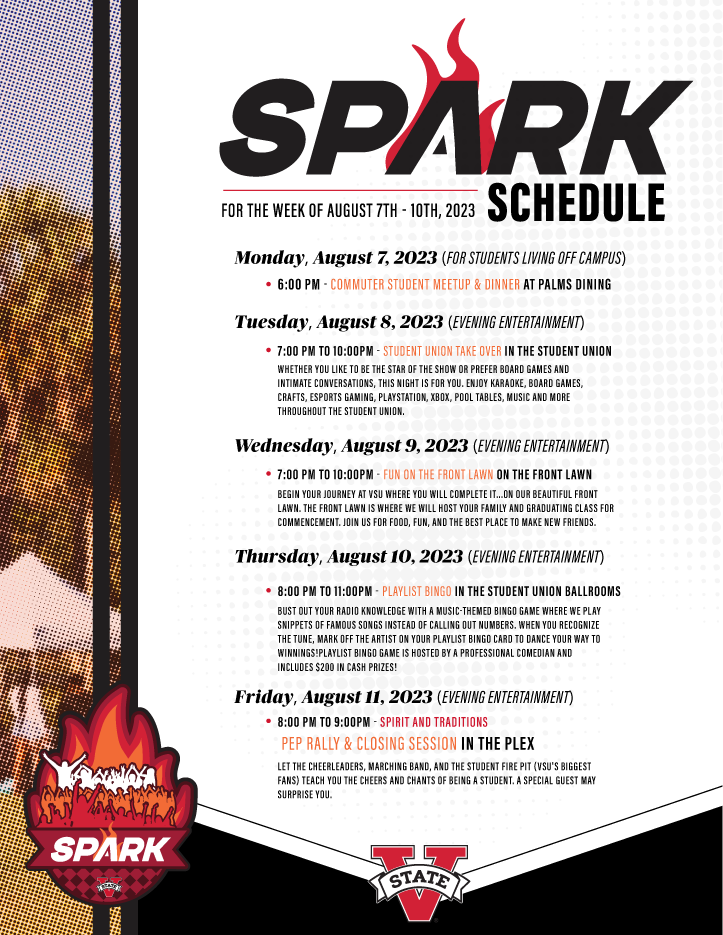 Division of Student Affairs
Student Union
3rd Floor - Suite 3106
Valdosta State University
1500 N. Patterson St.
Valdosta, GA 31698
Fax: 229.245.6481