Meet the Staff
Laverne Lewis Gaskins
Laverne Lewis Gaskins serves as in-house counsel for Valdosta State University in her position as University Attorney.
Ms. Gaskins earned her Bachelor of Arts degree of Psychology, with honors, from Valdosta State University, and thereafter received her Master of Education degree in Guidance and Counseling. She earned her Juris Doctor degree from Florida State University's College of Law. Prior to beginning her career in education law, she was engaged in the private practice of law. Ms. Gaskins is a former Georgia Special Assistant Attorney General.
Currently, Ms. Gaskins serves on the Editorial Board of The Journal of College and University Law, and is the Editor-in-Chief of the National Bar Association Magazine. Her articles have appeared in The Journal of College and University Law, Georgia Bar Journal, National Bar Association Magazine, and Diverse Magazine.
Ms. Gaskins is a Fulbright grant recipient (Hungary and Canada), and currently serves as a member of the Board,Campus Legal Advisor.
Ms. Gaskins is a member of the National Association of University and College Attorneys and the Education Law Association. In 2006, Ms. Gaskins was elected a Fellow of the American Bar Foundation. Gaskins is member of the Board of Governors for State Bar of Georgia, and currently serves on the Florida State University College of Law Alumni Board.
Ms. Gaskins is a member of the Georgia Bar and is admitted to practice in the United States Supreme Court, the Georgia Supreme Court, the United States Court of Appeals, the United States District Court, Middle District of Georgia and all state courts of Georgia.
Justin C. Stewart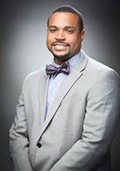 Justin Stewart, a native of Columbus, Ohio, graduated from Morehouse College, Cum Laude, in 2002. While attending Morehouse College, Mr. Stewart, a varsity student-athlete, was recognized as the Arthur Ashe, Jr. Scholar Award recipient. He received his J.D. from Thurgood Marshall School of Law at Texas Southern University in 2007. While on campus, Mr. Stewart worked in the Office of General Counsel gaining invaluable experience in higher education law. In summer 2005, Mr. Stewart served as an intern to the Honorable Jeffrey S. Sutton on the Sixth Circuit Court of Appeals. He would later return to Georgia to practice law as an Associate at the law firm of Hollowell, Foster & Gepp. While at Hollowell he focused on building the Estate Planning practice and assisting local entrepreneurs with business transactions. He is licensed in Georgia and Washington DC. In 2008, he served as the Assistant Director of Compliance for Kennesaw State University. In this role, Mr. Stewart monitored 17 varsity sports, served as the Title IX Coordinator and educated student-athletes, boosters and department staff on changing NCAA legislation. During his tenure at Kennesaw State University, Mr. Stewart sat on numerous committees serving student-athlete's interest. In 2010, Mr. Stewart was promoted to Interim Director of Compliance before leaving to serve as a Director of NCAA Compliance at North Carolina State University. During his tenure at NC State, Mr. Stewart monitored practice and recruiting activities while having oversight of over 600 student-athletes participating in 23 varsity sports.
Ms. Helen Morgan
Ms. Helen Morgan currently serves as the Legal Assistant for Valdosta State University's Attorney.
Ms. Morgan earned her Bachelor of Liberal Studies (with a minor in Legal Studies) Degree from Barry University, a Master of Public Administration Degree from Valdosta State University (VSU), and has completed course work in the Doctor of Public Administration Program at Nova Southeastern University.
Ms. Morgan transferred from VSU's Office of Sponsored Programs & Research Administration.