VSU Summer Study Abroad Programs: Czech Republic
VSU Summer Study Abroad Programs
Political Science | Psychology | Exchange Programs 
VSU Summer Study Abroad Program: Live and Learn in Czech Republic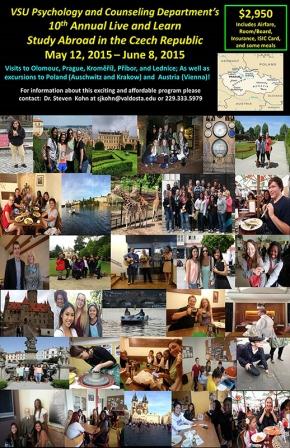 The host institution is Palacky University, founded in 1573, is one of the oldest and most highly respected universities in the Czech Republic. It is located in Olomouc, a city of more than 110,000 population, the administrative and historic capital of the picturesque Moravian region. Due to its rich history, time-honored university, culture and crafts traditions, Olomouc has always been an attractive location for tourists, merchants, and business people. Because of its central location in Europe, travel to Vienna, Auschwitz, Krakow, and Prague. Students may earn 7-9 credit hours that include courses in Psychology (Developmental, Social, Abnormal, History, and Special Topics), and Czech Cultural Studies. Courses are for all majors for participants from any institution.
Duration: Olomouc, Czech Republic
Location:May 12 - June 8, 2015
Cost: $2,950 plus VSU tuition and fees. If you are taking only summer study abroad courses you will be charged tuition for the number of credit hours you take plus $295 institutional fee. If you take 4 credit hours or less on study abroad, you will only be charged half of the institutional fee ( $147.50).  

Course Offerings:
INTL 3500  Czech Cultural Studies
PSYC 2103  Human Growth and Development
PSYC 3210 Adolescent/Young Adult Psychology
PSYC 3220 Adult Psychology/Gerontology 
PSYC 3200 Child Psychology
PSYC 3400 Abnormal Psychology 
PSYC 3710 Social Psychology or PSYC 3800 Industrial/Organizational Psychology
PSYC 4500 Consumer Behavior Psychology
PSYC 4500 Health Psychology
PSYC 4900 History of Psychology

Check out our Facebook page!
 
For more information please contact:
---
Central European Studies:Political Science
Three weeks in the Czech Republic and Central Europe, based in the historic university town of Olomouc. Lectures and seminar discussions on Czech and Central European history, politics, economics, culture, and social problems, with field trips to Krakow and Auschwitz (Poland), Prague, Vienna and Budapest, and other sites of historic and cultural interest.
Duration: Postponed until Summer 2016
Location: Olomouc, Czech Republic
Cost: $ TBD

Course Offerings:
POLS 4830 Special Topics in Political Science: Central Europe II (3 credits) 
POLS 4830 Special Topics in Political Science: Central Europe and International Relations (3 credits)
HIST 3030 History of Central Europe (3 credits)
INTL 3500/3510 Study Abroad Central Europe (3-6 credits)


For more information please contact:
VSU Exchange Program: Semester/Year at Palacky University, Czech Republic
Palacky University is located in the charming Moravian city of Olomouc, one of the most beautiful areas in the Czech Republic. Exchanges are possible in the areas of Political Science, Central European Studies, and Kinesiology. VSU tuition and fees, dorm fee, and meal plan; airfare; spending money.
For more information, please click University of Palacky
 Irina McClellan
(229) 333-7410
studyabroad@valdosta.edu

[Back to the Top]