Contact

General VSU Information


  229-333-5800

Office of Communications


  229-333-2163


  229-333-2157


  229-333-5983

Campus Address
Office of Communications, 1120 Powell Hall
Mailing Address
1500 N. Patterson St.
Valdosta, GA 31698
Contact Us
Contact

General VSU Information


  229-333-5800

Office of Communications


  229-333-2163


  229-333-2157


  229-333-5983

Campus Address
Office of Communications, 1120 Powell Hall
Mailing Address
1500 N. Patterson St.
Valdosta, GA 31698
Contact Us
October 3, 2013
13-279
Malynda Dorsey
Communications Specialist
VSU Honored by the Georgia Urban Forest Council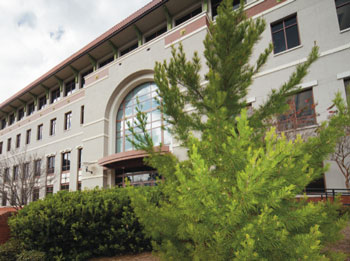 VALDOSTA – Valdosta State University has been named the 2013 the recipient of the Outstanding Education Grand Award by the Georgia Urban Forest Council. The award was presented to the university for its pinetum, which includes a variety of pine trees and serves as a living, learning environment for the students of VSU.
Landscape and Grounds Assistant Director Brett Ganas will accept the award during the council's 23rd Annual Awards Luncheon, titled "Tree Canopy and Green Infrastructure: Creating Vibrant and Healthy Communities", Thursday, Oct. 24 in Columbus, Ga.
The pinetum can be found outside of Odum Library and features various pine species such as spruce, longleaf, sand pine and loblolly.  The mission of the pinetum is to educate members of the VSU community on the diversity of native plant and tree communities located within the region. The pinetum serves as a learning laboratory for several classes including horticulture and geosciences.
"The pinetum is just one effort on the part of Valdosta State University's faculty and students to preserve, protect, restore and raise awareness of the regional native plant community that thrives on our campus," said Ganas. "The campus beautification and stewardship subcommittee continues to work closely with landscape and grounds and the administration to minimize tree loss during new construction and to preserve the campus's remnant mature pine groves – an invaluable natural resource to both the university and the community. "
In the past year, VSU has been recognized for its landscape and grounds by Keep Lowndes/Valdosta Beautiful (KLVB) and the Arbor Day Foundation. KLVB recently presented the university with the 2013 School Beautification Award and the Arbor Day Foundation designated the university as a Tree Campus USA in February. VSU is one of eight universities in Georgia to have the Tree Campus USA designation.
Contact

General VSU Information


  229-333-5800

Office of Communications


  229-333-2163


  229-333-2157


  229-333-5983

Campus Address
Office of Communications, 1120 Powell Hall
Mailing Address
1500 N. Patterson St.
Valdosta, GA 31698
Contact Us