President's Welcome
Welcome from President William J. McKinney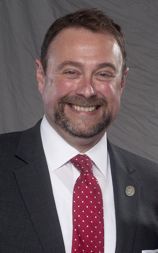 Welcome to Valdosta State University.
Whether you are visiting our Web site or are planning a visit to our beautiful campus, I know that you will be impacted by the role that this beloved university plays in our region.  Valdosta State University has been serving the citizens of South Georgia for over 100 years, and is dedicated to educating the citizens and leaders of the 21st Century.  This work begins with our dedicated and gifted faculty and staff, and is aided by those who give of their time and treasure to support their good work. 
At VSU, we are reminded each day that what we do is transform the lives of our students in positive ways.  Thanks in large part to our faculty, we are graduating record numbers of students and admitting the most academically qualified students to our university in nearly a decade.  We will soon begin a $1.9 million renovation of Martin Hall to create the new VSU Center of Excellence in STEM Education, and another $1.9 million renovation of the University Center to pave the way for our new Student Success Center.
The service that we provide to our students and region sits at the heart of our mission and frames all that we do.  VSU offers an excellent, nationally recognized academic programs as well as co-curricular activities.  Blazer athletic events are nationally competitive, and student organizations and cultural events abound. 
In the 2014-2015 academic year, we celebrate The Year of Arts at Valdosta State.  The arts provide a profoundly important means of human expression, and VSU serves as a regional center for the finest in music, dance, theatre, and visual art.  This year we will shine a spotlight on the faculty, students, and visiting artists who make such a valuable contribution to our region's cultural vitality.  In addition to the Silver Anniversary Season of the Valdosta Symphony Orchestra, I invite you to witness the vast spectrum of arts events sponsored by our own College of the Arts.
On behalf of the students, faculty, staff, retirees, and alumni of Valdosta State, I invite you to discover all that VSU has to offer.  
Thank you for visiting!
Bill McKinney
President