2020-2021 Season
Under the guidance of the University System of Georgia, Valdosta State University has made many changes to our current methods of operation in response to the COVID-19 health concerns and prevention measures. Many campus operations have been modified, emphasizing reduced public access hours and remote working assignments. Please note that the safety and health of our students, faculty, staff, and our patrons is paramount at this time. As a result, all events through May 10 were canceled. VSU Theatre & Dance is planning a virtual season for 2020-2021. Please refer to the VSU web site www.valdosta.edu for updates and campus developments.  Thank You.
In planning for our 2020-2021 season, we find ourselves in a new paradigm. Yet we have a duty to our students to present a season and offer that to the communities of VSU and the South Georgia Region.  

Following the government, campus, and industry guidelines for doing what we do in the age of a global pandemic, we are presenting our season virtually.  Our six-production season, with the exclusion of GUYS AND DOLLS, will be available on a private Vimeo channel for your household to enjoy on your screen. GUYS AND DOLLS will be available from ShowTix4U.com.  In offering our season in this new format, we continue our commitment to art and learning by expanding the opportunities, techniques, and challenges of technology that is different from the traditional theatre experience. 
Please scroll down to see the most recent letter from Dean A. Blake Pearce to all College of the Arts stakeholders.
Offerings and streaming dates of our season are subject to change.
Upcoming Productions: 
GUYS AND DOLLS
Music and Lyrics by Frank Loesser
Book by Jo Swerling and Abe Burrows
April 8-10 and 12-14, 2021 at 7:30 PM
Sunday, April 11, 2021 at 3:00 PM
Please note, the production is only accessible on these dates at these times.
A musical fable of Broadway based on a story and characters of Damon Runyon, Guys and Dolls is an oddball romantic comedy.  Runyon's Times Square is populated by gamblers and cops, night-club singers and missionaries out to save souls.  The story takes us from the heart of the big apple to the cafes of Havana, Cuba, and even into the sewers of New York City, but eventually everyone ends up right where they belong.
Frank Loesser's brassy, immortal score featuring such songs as "If I Were a Bell" and "A Bushel and a Peck" makes Guys and Dolls, arguably a perfect musical comedy.
Adapted from the mtishows.com
To purchase access to GUYS AND DOLLS, please visit:
https://www.showtix4u.com/event-details/49655
Season Members will receive an email with your pre-paid access code.
VSU Students receive free access to our productions per University policy.  VSU Students should call the box office, 229.333.5973 Monday-Friday, 2-5 PM and you will receive a VSU Student access code via email from ShowTix4U.com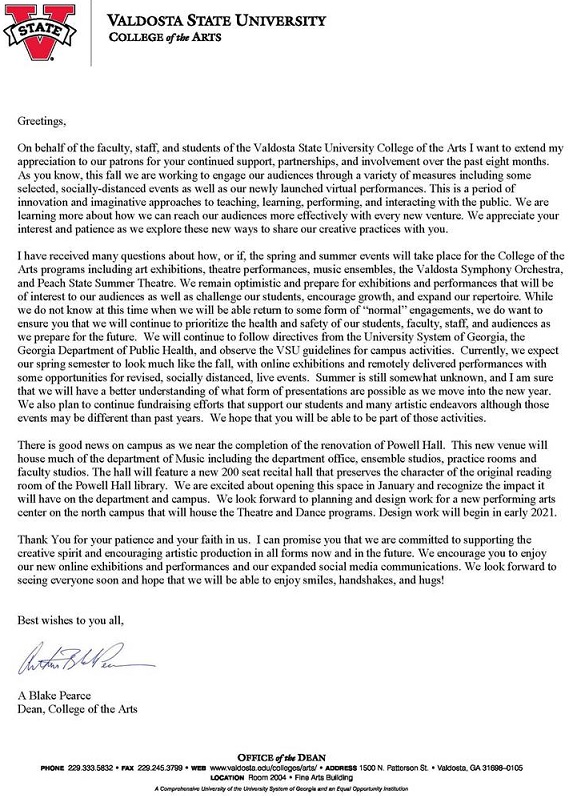 Past productions of the current season.
SHE KILLS MONSTERS: VIRTUAL REALMS
A play by Qui Nguyen
September 17-22, 2020
This comedy by playwright Qui Nguyen, which debuted in 2011, has recently been adapted to be presented via a video conference platform to meet the challenges of our current, socially distant environment. She Kills Monsters: Virtual Realms journeys between the real world of Agnes Evans, an average college student who loses her sister in a tragic car accident, and the wild, fantasy world of Dungeons and Dragons games that were the refuge of her sister Tilly and her friends.  This geek-ed out romp into 1990's role playing is full of fearsome creatures, fearless warriors, and cheeky, pop-culture wit.  With each new demon or elf she encounters, and each monster that is slayed, Agnes gets closer to knowing who Tilly really was, and to finding the courage to become her own true self.
Adapted from concordtheatricals.com
Please note, this production contains mature language and themes.
FALL DANCES
TOGETHER/APART
Streaming October 29 - November 3, 2020
Together/Apart is an evening of concert dance works by VSU Dance Faculty.  Join us as we explore classic and contemporary forms of dance and blur the boundaries of traditional performance , presented to you in the comfort of your home.  Dances will provoke, inspire, liberate, and leave audiences in awe as dances weave storytelling, abstract thought, and superb artistry on the stage. Though we may be apart, together we dance.


FINDING YOUR VOICE, SHARING YOUR STORY
November 12-17, 2020
With original pieces written and performed by VSU Students, Finding Your Voice, Telling Your Story is a series of true first person narratives that will explore the experiences that shape our existence.  Join us as we discover the stories that set us apart and bring us together.
"Stories are a communal currency of humanity. Tahir Sha, In Arabian Nights
STOLEN GIRLS, a bonus performance in our fall semester.   
Live Streamed at 7:30 PM.  Thursday, November 19 and Friday, November 20, 2020.
Season Members will receive access to the performance.
Stolen Girls written by VSU Theatre & Dance Alum, Richell Hart, is a fictional piece base on an incident which occurred in Georgia during the protests of the early 1960s.  A streamed reading of the play will be presented and there will be opportunities for audience feedback to assist Richell as she continues to develop the piece.  Come be a part of the creation of a new work of art!
Dramaturgical Information for STOLEN GIRLS by Shamar Barnett.
THE BUTTERFLY AND THE BEE
A Young Audiences presentation written and choreographed by Melissa Pihos.
February 5-6, 2021
The Butterfly and the Bee is a story about an unexpected friendship between a beautiful butterfly and a busy bee.  The join each other on an enlightening journey which examines their unique functions on Earth and explores their important roles in the life cycles within our environment.
For information on streaming to schools or to book a streaming date for March or April, 2021, please contact Sarah Lowry at (229) 253-2914.
THE CURIOUS INCIDENT OF THE DOG IN THE NIGHT-TIME
A play by Simons Stephens
Based on the novel by Mark Heddon
February 25 - March 2, 2021
The Curious Incident of the Dog in the Night-time explores the story of fifteen year old Christopher John Francis Boone. The winner of the 2015 Tony Award for Best Play, the story follows Christopher's struggles as a mathematics genius who has issues with interpreting daily life. We follow his very organized approach to solving a mystery.  On this journey, Christopher overcomes his greatest fears and emerges with new strength to face the world and succeed.  Heartwarming, with elements of  humor and pathos, we invite you to join us as we marvel at the resilience of the human spirits and the power of love.
Please note, this production contain  mature language and themes. PG-13.
Adapted from dramatists.com
Box Office:
Office:
Campus Address
Fine Arts Building
204 West Brookwood Dr.
Valdosta. GA, 31698
Mailing Address
1500 N. Patterson St.
Valdosta, GA 31698

Monday - Saturday
2:00 pm - 5:00 pm

During academic year