Ed.D. in Leadership
Total Credit Hours: 55
Degree Format: Online
About this field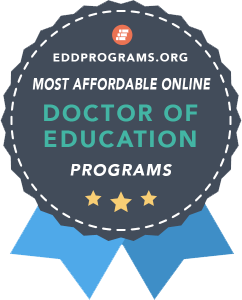 The doctoral program in leadership (Ed.D.) develops capable, ethical, and diverse leaders who wish to effectively lead 21st century educational institutions and other organizations. This program connects the knowledge and inquiry skills developed in the core curriculum and research courses to the increasingly complex world of restructuring and organizational improvement. Students work with their academic advisor to select a cognate area that best fits their professional and academic goals. Cognates include: Organizational Leadership, Curriculum Leadership, Technology Leadership, Higher Education Leadership, and Special Education Leadership.
Program of Study
Program Coordinator
If you have questions about the program, please contact:
Dr. John LairseyEmail: jdlairsey@valdosta.eduPhone: 229-333-5633
Admission Deadlines
Fall Semester: March 15
Admits in Fall Semester only.
Admissions Requirements
REQUIRED DOCUMENTS

ADMISSION REQUIREMENTS

Online Graduate Application

Application Fee (credit or debit card and e-checks accepted)

One Official Transcript from each institution where you have previously enrolled (undergraduate and graduate).

(Transcripts of coursework completed in-residence at VSU will be obtained by the Graduate School

Must hold a master's degree from a regionally- accredited institution.
Minimum graduate GPA of 3.5 on a 4.0 Scale. GPA will be calculated on all attempted graduate coursework.

or

GRE and MAT scores are only one of the factors considered in admissions decisions. These test scores are not the sole criteria for admission.
Recommended minimum scores for GRE:
Verbal score of 425/148; Quantitative score of 425/140, and Analytical score of 3.5 (old scoring system - 425)
Recommended minimum scores for MAT:
New scoring system - 390. Old scoring system - 36.

Doctor of Education Biographical Career Goal Statement (writing sample)

The Doctor of Education Biographical Career Goal Statement will serve as a writing sample.

Three Recommendations

Recommendations from colleagues in your current or previous professional setting.

One recommendation must be from a current or recent supervisor.

Resume

Must have 3 years minimum acceptable school or related agency experience.

The form must be completed and signed by the student/applicant.
This form must be received prior to enrollment, NOT prior to admission.
Applicants who are currently enrolled, and those who attended VSU in the past, are not required to resubmit the Medical Form

Verification of Lawful Presence

(For applicants who believe they qualify for in-state tuition or a residency waiver.)

This is not required for individuals who do not qualify for in-state tuition or a residency waiver.
This must be received prior to enrollment (if applicable), NOT prior to admission.
Citizenship documentation is needed for any applicant who wishes to be considered for in-state tuition.
Complete list of accepted documents and information on residency.
Unless otherwise indicated above, all required documents must be received on or before the admission deadline for your file to be reviewed. It is the applicant's responsibility to allow adequate time for document delivery and to ensure receipt of documents. Please allow at least 7-10 days for delivery by mail.
Important Program Information
Completed applications are reviewed by a doctoral admissions committee comprised of leadership doctoral faculty. Admissions decisions are based on a composite of qualitative and quantitative factors including the academic writing sample, recommendations, professional activities/achievements, prior grades, and test scores. Many factors influence admissions decisions including qualifications of other applicants and space available in the program.
Petition for Admission by Exception
Applicants who do not meet the minimum requirements stated above may submit a request for admission by exception to the Graduate School.
The petition should be in the form of a letter. It should state any extenuating circumstances the applicant wishes to have considered and must state why the applicant believes that he or she will be successful if admitted to the program. The letter should be addressed to the Departmental Doctoral Admissions Committee. The letter should be submitted as part of the application packet.
Doctoral candidates considered for admission by the Doctoral Admissions Committee may be required to appear for an interview before final decisions are rendered.
International Applicants
International applicants must meet all admission criteria and documentation requirements as defined by the program, however, additional documentation may be required. Please review the information below for specific information and guidelines.
Test of English as a Foreign Language (TOEFL) Exam or International English Language Testing System (IELTS) – Applicants whose first language is not English (based on country of citizenship) must submit official scores on the TOEFL exam or IELTS exam. International applicants whose first language is not English but who have earned a bachelor's degree or higher from a U.S. institution may be exempt from the TOEFL/IELTS requirement.
Certificate of Finances - The Certificate of Finance is required of any applicant requiring a student visa to enter the United States to complete his or her studies. This document is considered a part of the application for admission and applications will not be reviewed without this document. Applicants who do not require an I-20 student visa to complete their studies are exempt from this requirement.
Evaluation of International Transcripts - Applicants who have completed coursework at an institution outside of the United States must submit a course-by-course evaluation of the coursework. This transcript evaluation must be completed by an international education credentials evaluation service such as Josef Silny, ECE, etc. The transcript evaluation does not replace the transcript requirement. Official transcripts are still required.
Admission Classifications
The Doctor of Education Leadership program ONLY admits Regular Status students.
Probationary Status is not available for Doctor of Education programs at Valdosta State University.
Irregular Admission is not available for Doctor of Education programs at Valdosta State University
Admission Questions
For admission questions about this program, please contact the Graduate School by phone, email, or stop by our office.
Applicant Resources
Application Tips
Be familiar with Graduate School's application requirements and forms
Test scores should be as current as possible. We prefer no older than five years. If they are borderline, consider retesting. We accept your highest score(s).
Graduate GPA's must be no lower than 3.5. on a 4.0 scale.
Your writing sample should be well structured, fully answer the questions, and have no grammatical errors.
Your resume and professional background should be complete, up to date, and contain sufficient information to judge likelihood of success in doctoral work.
At least one letter of reference should come from an immediate supervisor who knows your work. If possible, another should come from a previous supervisor.
Make sure ALL of your material is submitted to Graduate School well before the cutoff date.
Graduation Requirements
Ed.D. in Leadership Graduation Requirements
Program Retention, Dismissal, and Readmission
Ed.D. in Leadership Program Retention, Dismissal, and Readmission Policy
229.259.5094

Curriculum, Leadership, and Technology Building
Second Floor
1310 N. Patterson St.
Valdosta, GA 31698