Ed.D. in Curriculum & Instruction: P-12 Disciplinary Concentration
Total Credit Hours: 55
Degree Format: Hybrid
About this field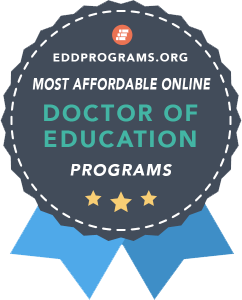 The Ed.D. in Curriculum and Instruction: P-12 Disciplinary Concentration degree offers an engaging and flexible educational model designed to fit the busy schedules of working professional educators in a variety of instructional fields. Our innovative program provides practical opportunities for students to relate theoretical foundations to curricular and instructional issues facing schools and other educational systems. You will enjoy learning from our quality faculty whose real-world experience and knowledge has been acquired through many years learning, researching, and working in the domains of our field. Our program delivery includes online and hybrid options. Additionally, 2 required one-day doctoral seminars are held on a Saturday in Valdosta, GA in June at the beginning of year one and beginning of year 2. Electives will vary in delivery format based on your approved selections, and they must align with your declared disciplinary concentration.
Advantages of this program are:
Approved by the GaPSC as an advanced program, which will lead to a certificate upgrade but will add no new field to your certificate.

Students holding a valid GaPSC Standard Professional certificate (or higher) qualify for the Alternate Level 6 Certification Option upon successful completion of 36 credit hours and an approved portfolio.

Students holding a valid GaPSC Standard Professional certificate (or higher) qualify for a Level 7 Certification upon successful degree completion.

No GACE exam required

Available concentrations include:

| | | |
| --- | --- | --- |
| Art | Architectural Drawing / Design | Behavioral Sciences |
| Business Ed. | Curriculum & Instruction | Elementary Education |
| English | ESOL | Gifted |
| Health & Physical ED | History | Instructional Technology |
| Mathematics | Media specialist | Middle Grades Fields |
| Music | Political Science | Reading |
| Science | Spanish | SP ED Adapted Curriculum |
| SP ED General Curriculum | Speech | Trade and Industrial Fields |
Cost and Length of Program
The prescribed Ed.D. C&I course sequence will allow you to complete the coursework phase of the program within 30 months. The dissertation process varies in length from student-to-student due to unique nature of each dissertation, but students regularly complete the dissertation phase within 30 months. Costs will also vary by student because we allow transfer credit for up 2 qualified courses. Based on completing 46 course hours and 9 dissertation hours, the cost of the program is *$20,500 including standard University fees. We encourage you to compare our cost with any other institution. We think you will be pleasantly surprised to see what a great value VSU is.
*Estimated cost computed based on Fall 2019 rates.
Please follow this link to a document that lists the required courses and their descriptions in the recommended sequence.
Admissions Requirements
Required Documents
Admission Requirements
Online Graduate Application

Application Fee (credit or debit card and e-checks accepted)
Application deadline is March 15, and we start one time per year in the fall.

One Official Transcript from each institution where you have previously enrolled (undergraduate and graduate).
(Transcripts of coursework completed in-residence at VSU will be obtained by the Graduate School.

Must hold a minimum of a master's degree from a regionally-accredited institution.
Minimum graduate GPA of 3.5 on a 4.0 Scale. GPA will be calculated on all attempted graduate coursework in which a letter grade was awarded.

Graduate Record Exam or Miller Analogies Test

GRE or MAT scores are required.

Recommended minimum scores for GRE:

If taken before July 2011: Verbal score of 450; Quantitative score of 450; and Analytical score of 3.5 (old scoring system - 450)
If taken July 2011 or later: Verbal score of 150; Quantitative score of 142; and Analytical score of 3.5.

Minimum MAT Requirements:


Recommended minimum for MAT: 400.

GRE and MAT scores are only one of the factors considered in admissions decisions. These test scores are not the sole criteria for admission.
Valid Educator's Certificate
Must hold a valid educator's certificate, or equivalent, in an available concentration area.
Three Recommendations
(General Recommendation Form Required)
Recommendations from professionals who can assess professional qualifications & potential for successfully completing the program.
Doctor of Education Biographical Career Goal Statement
(Instructions)
The Doctor of Education Biographical Career Goal Statement will serve as a writing sample.
Resume
Must have 3 years minimum acceptable school or related agency experience.
VSU Medical Form

The form must be completed and signed by the student/applicant.
This form must be received prior to enrollment, NOT prior to admission.
Applicants who are currently enrolled, and those who attended VSU in the past, are not required to resubmit the Medical Form

Verification of Lawful Presence
(For applicants who believe they qualify for in-state tuition or a residency waiver.)

This is not required for individuals who do not qualify for in-state tuition or a residency waiver.
This must be received prior to enrollment (if applicable), NOT prior to admission.
Citizenship documentation is needed for any applicant who wishes to be considered for in-state tuition.
Complete list of accepted documents and information on residency.
Unless otherwise indicated above, all required documents must be received on or before the admission deadline for your file to be reviewed. It is the applicant's responsibility to allow adequate time for document delivery and to ensure receipt of documents. Please allow at least 7-10 days for delivery by mail.
IMPORTANT PROGRAM INFORMATION
Completed applications are reviewed by a doctoral admissions committee comprised of departmental faculty. Admissions decisions are based on composite scoring of qualitative and quantitative factors including the academic writing sample, recommendations, professional activities/achievements, prior grades, and test scores. Many factors influence admissions decisions including qualifications of other applicants and space available in the program.
INTERNATIONAL APPLICANTS
International applicants must meet all admission criteria and documentation requirements as defined by the program, however, additional documentation may be required. Please review the information below for specific information and guidelines.
Test of English as a Foreign Language (TOEFL) Exam or International English Language Testing System (IELTS) – Applicants whose first language is not English (based on country of citizenship) must submit official scores on the TOEFL exam or IELTS exam. International applicants whose first language is not English but who have earned a bachelor's degree or higher from a U.S. institution may be exempt from the TOEFL/IELTS requirement.
Certificate of Finances - The Certificate of Finance is required of any applicant requiring a student visa to enter the United States to complete his or her studies. This document is considered a part of the application for admission and applications will not be reviewed without this document. Applicants who do not require an I-20 student visa to complete their studies are exempt from this requirement.
Evaluation of International Transcripts - Applicants who have completed coursework at an institution outside of the United States must submit a course-by-course evaluation of the coursework. This transcript evaluation must be completed by an international education credentials evaluation service such as Josef Silny, ECE, etc. The transcript evaluation does not replace the transcript requirement. Official transcripts are still required.
ADMISSION CLASSIFICATIONS
The Doctor of Education in Curriculum & Instruction program ONLY admits Regular Status students.
Probationary Status is not available for Doctor of Education programs at Valdosta State University.
Irregular Admission is not available for Doctor of Education programs at Valdosta State University.
ADMISSION QUESTIONS
For admission questions about this program, please contact the Graduate School by phone, email, or stop by our office.
Application Tips
Be familiar with Graduate School's application requirements and forms
Test scores should be as current as possible. If your scores are borderline, consider taking them again. We will accept your highest score(s).
Graduate GPA's should be no lower than 3.5. on a 4.0 scale.
Your writing sample should be well structured, answer the questions, and have no grammatical errors.
Your resume and professional background should be complete, up-to-date, and contain sufficient information to judge likelihood of success in doctoral work.
At least one letter of reference should come from an immediate supervisor who knows your work. If possible, another should come from a previous supervisor.
Make sure ALL of your material is submitted to the Valdosta State University Graduate School well before the application deadline.
Graduation Requirements
A candidate must successfully complete, defend and submit a dissertation.
A candidate must successfully complete a written comprehensive examination or equivalent before admission to candidacy.
A candidate must have a GPA of 3.25 or above on all doctoral coursework.
A candidate must complete an application for graduation one semester prior to their expected graduation date.
Program Retention, Dismissal, and Readmission
The academic residency requirements are satisfied upon completion of two consecutive semesters of six semester hours or more of coursework.
No more than 6 semester hours of post-master's academic work may be transferred from another institution into a Dewar College of Education doctoral program. Transfer credit will be evaluated after admission, by the academic department. To be eligible, credit must be no more than seven years old prior to completion of the degree.
Earning grades below "B" in graduate courses will result in the following consequences: Students admitted Fall 2011 and thereafter will be dismissed from the Graduate School if they accumulate three or more academic deficiency points unless otherwise indicated by individual program policy. A grade of "C" (although it may be credited toward a degree) equals one deficiency point. A grade of "D," "WF" or "F," or "U" (none of which will be credited toward a degree) equals two deficiency points.
If dismissed from the program a student will not be considered for readmission.
Candidates failing to maintain a 3.25 GPA on all doctoral coursework may face academic sanctions as determined by the Doctoral Coordinating Committee.
A comprehensive exam must be successfully completed prior to entering candidacy. Candidates are permitted two attempts to complete the comprehensive exams. Candidates who fail to successfully complete the comprehensive exam after two attempts will be dismissed from the program.
Doctoral candidates may take up to five years from the term in which comprehensive exams are taken and passed to complete their dissertation work. A one year emergency stop-out may be requested by the student through the Emergency Stop-Out Form. During the stop-out the student must register for a minimum of 1 hour of dissertation credit per term. If the dissertation proposal has been approved before the stop-out year then an updated and reapproved proposal is required by the end of the first semester following the stop-out. An additional extension of two years beyond the 5+1 year limit would require successful completion of a second comprehensive exam that is scheduled, taken, and graded within one term of the expiration of the 5+1 year limit. The two years will begin in the term after the second comprehensive exam is passed. The dissertation proposal must be updated to reflect current literature. The updated proposal must be approved by the dissertation committee during the first term of the two year extension. Failure to pass the second comprehensive exam will terminate the dissertation process.
229.259.5094

Curriculum, Leadership, and Technology Building
Second Floor
1310 N. Patterson St.
Valdosta, GA 31698