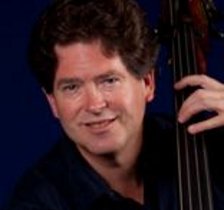 Tod Leavitt
Lecturer in Music, Contrabass
Doctor of Musical Arts




Ohio State University
Tod Leavitt is a classical and jazz bassist. He has performed professionally on both the acoustic and electric basses for over thirty years. As a classical bassist, Dr. Leavitt has performed with several symphony orchestras, including Battle Creek Symphony, Ann Arbor Symphony, West Michigan Symphony, San Diego Symphony, Columbus Symphony, Dayton Philharmonic, Lexington Philharmonic and has been a featured soloist with Blue Lake Fine Arts Camp Festival Orchestra. He has given world premieres of works by Jon Deak and Frank Proto.

Dr. Leavitt is currently the Senior Lecturer of Contrabass at Valdosta State University, Principal Contrabassist of the Valdosta Symphony Orchestra and Blue Lake Fine Arts Camp Festival Orchestra. He has performed with the Savannah Philharmonic and The Charleston Symphony Orchestra since 2011. Dr. Leavitt completed two BA degrees (music performance and music education) at Michigan State University with Virginia Bodman and Peter Dominguez, MA (music performance) at the University of California, San Diego with Bertram Turetzky, and DMA (music performance) at The Ohio State University with Dr. Paul Robinson; he also studied with Barry Green, François Rabbath, and Paul Ellison at the University of Cincinnati, CCM.

Dr. Leavitt has taught at Bowling Green State University, Northern Kentucky University, Earlham College and Xavier University. Classes he has directed/instructed include: chamber music; jazz combo: jazz history; music appreciation; popular music in America; the history of rock and roll online; string methods and pedagogy; supervisor for music education.

Dr. Leavitt's Doctoral Thesis is "The Status of Contrabass Instruction at Selected Colleges and Universities in the United States of America." This document analyzed current trends in contrabass pedagogy.