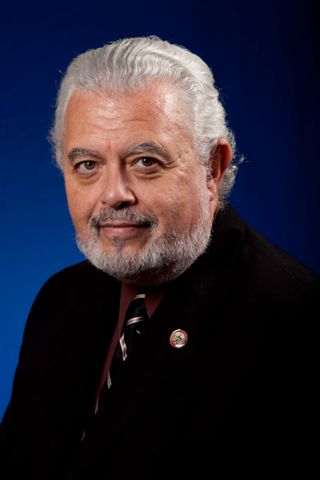 Dr. Reynaldo L. Martinez Jr. was born in San Benito, Texas in the Rio Grande Valley.  After graduating from San Benito High school, he earned his Bachelor's Degree in Secondary Speech and English Education from Texas A&I University.  Later on, he earned a Masters Degree in Occupational Education from Corpus Christi State University and in 1988 earned his PhD in Vocational Education with a specialization in vocational teacher education from Colorado State University.  With a background in broadcasting, Dr. Martinez taught TV Production for 10 years at the high school level.  After earning his doctorate, Dr. Martinez's first faculty position in higher education was at the University of Maryland – College Park as a teacher educator in Occupational & Technical Education. 
In 1992, Dr. Martinez accepted a similar position at Oklahoma State University where he earned tenure and was promoted to the rank of Associate Professor in 1997.  He served as a member of the OSU Faculty Council, was Coordinator of the Occupational Education Studies Program, and Associate School Head of the School of Teaching and Curriculum Leadership in the College of Education.  In July of 2005, Dr. Martinez accepted the position of Professor and Head of the Department of Adult and Career Education at Valdosta State University.  Along with his leadership duties, he taught undergraduate, masters and doctoral classes.  Dr. Martinez has a consistent record of international and national peer reviewed publications in Adult and Career Education and has made numerous international, national, regional and state professional presentations.  He has participated in and/or been the principal investigator of externally funded international training projects focusing on issues of training vocational-technical educators in the areas of competency-based vocational education and curriculum development in Belize, Thailand, Indonesia, and Honduras. 
Dr. Martinez was selected as a Visiting Professor in the fall of 2015 at the University of the West Indies in Kingston, Jamaica.  He has served as President of the Oklahoma Association for Career and Technical Education, a Trustee of the National Association of Trade and Technical Teacher Educators, President of the University Council for Workforce and Human Resources Education, the leading national organization of doctoral granting institutions in Adult and Career Education, Parliamentarian for the Georgia Association for Career and Technical Education, and President for the Academy for Career and Technical Teacher Educators.  He was one of the founding members of MESA to mentor, engage, support and academically assist Hispanic/Latinx students at VSU.  Dr. Martinez retired from VSU in 2017 and was awarded the title of Emeritus Professor in 2019.  He now teaches part-time online doctoral classes for the Adult and Career Education program and continues to support MESA.