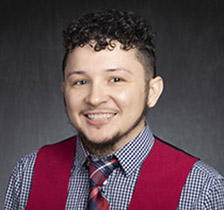 Phenix Culbertson
Student Career Counselor
M.S. Forensic Science




University of Florida
Phenix J. Culbertson is a proud alumnus of Valdosta State University and the University of Florida. He obtained a Bachelor of Arts degree in Criminal Justice with a Spanish minor and honor distinction of Summa Cum Laude. Following, he obtained a Master of Science degree in Forensic Science with the honorable distinction of Cum Laude. Phenix is currently pursuing a Doctor of Public Administration from Valdosta State University.
Phenix currently serves as a Student Career Counselor with a focus in Employer Relations and Volunteer Services in the Career Opportunities. His role is to network and establish relationships with employers to provide employment and experiential learning opportunities to VSU students and alumni. Additionally, he coordinates volunteering, internships and co-op for students in collaboration with faculty, employers, and community organizations.
Phenix is heavily involved on the VSU campus. He serves as the President for MESA (Mentor, Engagement, Support, & Achieve) to enhance the college experience for Hispanic students. Additionally, he serves on the Title XI Investigator team, Student Affairs Training & Employee Development Committee, SPARK Committee, and Diversity in Faculty/Staff Task Force. Phenix is also the on-campus advisor for the student organization VIAJESUS Modeling Troupe.
Through his job role and extracurricular involvement, Phenix hopes to make a lasting impact on the campus related to experiential learning, professional development, diversity & inclusion, social equity, and providing Safe Spaces for students seeking career counseling.
Monday-Thursday 8AM-5:30PM
Fridays 8AM- 3PM
To schedule an appointment Click Here