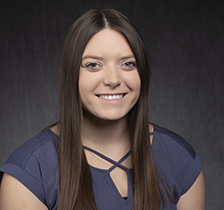 Madison Heath
Admissions Counselor
Hometown: Nashville, Ga
About Me:
I began my academic journey at Valdosta State University in the Fall of 2015. I graduated with my Bachelor's degree in Business Management in Spring of 2020. I decided to continued my education and received two minors as well, one in Advertising and Promotion and the other in Entrepreneurship. Three of the five years that I was here, I was part of the Champion, Award Winning Valdosta State Cheerleading Program. While I was a part of this program, I was able to attend and travel to many different places such as Louisville, Kentucky, Atlanta, and Daytona Beach, Florida. I was also involved in many student athlete events on campus as well as off campus. Throughout my time as a student, I made great memories and friendships that will last a life-time. My experience here also opened up opportunities and advisements so that I would be prepared to take on my career by storm.
Favorite spot on campus:
VSU has a wonderful campus and my personal favorite space is the Student Union. The Student Union is what I liked to call "The Hangout." This is where you can enjoy the food court, gaming room, and of course the Bookstore which has your textbooks, pens, paper, and even a huge selection of Valdosta State gear!
Best Advice:
Be active! Join at least one club/organization while you're here. College is not just about going to class and taking tests. Take advantage of the perks and free admissions to all VSU events. College is what you make it. Four years seems like a long time, but before you know it, you'll be walking across that stage. You'll make memories here that you'll never forget!