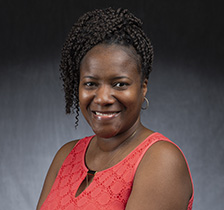 Marie Dison
CoA Academic Advisor (Last Names A-H)
Master of Education, Adult & Career Education




Valdosta State University

Bachelor of Science, Administrative Services




Valdosta State University
---
Areas/Programs I advise: (All CoA Departments: Art & Design, Communication Arts, Music)
-- Marie Dison (Last Names A-H)
-- Joshua Rivers (Last Names I-S)
-- Alicia Roberson (Last Names T-Z & Athletes)
Year started working at VSU: I began my professional career with VSU in 2008. I pursued a different path after a couple of years, but returned in 2018.

Why I love advising: As a first-generation college student, I know the impact that higher education can have on one's life. I enjoy having the privilege to be present for students throughout their educational journeys, encouraging and motivating them along the way. 

Hometown: Quitman, GA

Hobbies/Interests: I love spending quality time with my family, listening to jazz and old school r&b, and early mornings/late evenings at the beach. I also love nature documentaries and drawing.

Fun Fact: I met my husband at VSU over 20 years ago!

Why VSU: Valdosta State is my alma mater where I experienced a tremendous amount of growth, both personally and professionally. I chose VSU because I wanted to help others experience their own personal and professional growth.